Busch Gardens Part 1 DVD or Blu-Ray NEW.
Filmed using both Standard and Hi Definition equipment - Adapted for viewing on a standard 16:9 Television
Available in PAL, NTSC and Hi-Definition Blu-Ray.
Thirty Three Minutes of pure Busch Garden Magic on one Region Free DVD or Blu-Ray.
Busch Gardens Part 1 takes you to place after place and attraction after attraction and features full attractions that let you experience the following:
(all pictures taken directly from the DVD).........

The Park Entrance & The Serengeti Train Ride.
Enter the Park and Climb aboard the Serengeti Train to get a flavour of the animals on show.
۞ SEE THE WHOLE ATTRACTION ۞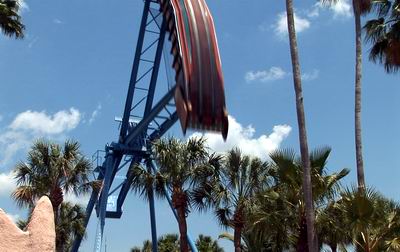 Phoenix (If I didn't get sea sick I'd go on this).
Swing into action for a thrill ride, up and eventually over. Hang on to those hats and glasses (where have I heard that before?).
How majestic, how stunning, how hungry they look. It's best not to get too close to the glass viewing area. It's worth the trip to Busch Gardens just to see these magnificent animals.
۞ SEE THE FULL ATTRACTION ۞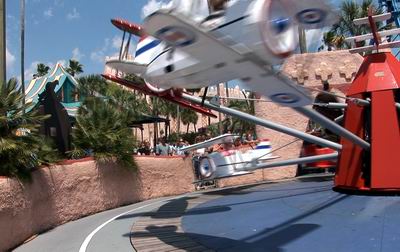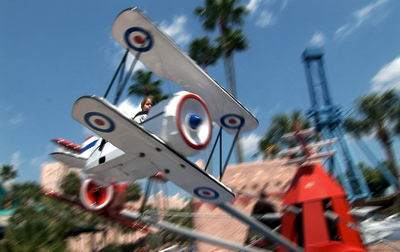 Bush Flyers (If I was six years old I'd go on this).
Up, Up and away for the little ones.
and.... Sandstorm (If I didn't get sick spinning around I'd go on this).
Up, down, and around at breakneck speed, not recommended straight after lunch.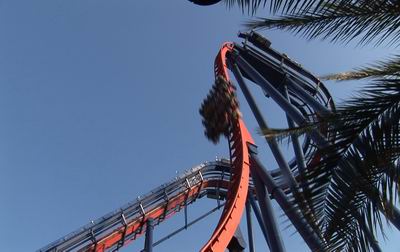 Sheikra (If I didn't suffer from vertigo I'd go on this).
Mind numbing drop, a big splash followed by ups and downs and upside downs. A thrill ride that causes lots of moans, and that's just from the spectators.
۞ SEE THE COMPLETE RIDE ۞

Great to chill out after avoiding all those scary rides and just sit and watch the antics of these delightful creatures.
۞ SEE THE WHOLE attraction ۞

Not sure if this is a parade or a show but lots of very tall things in evidence.
۞ SEE THE WHOLE ATTRACTION ۞
On Safari in Africa with lots of animals on show, from flamingos to a giant tortoise. It's all here.
۞ SEE THE WHOLE ATTRACTION ۞
Congo River Rapids (If I didn't mind getting wet I'd go on this).
Whilst we wait all of 90 minutes just to get wet we take in a load of monkeys doing what monkeys do. After just a glimpse of the rapids we are on our way... Phew!
۞ SEE A SMALL SECTION OF THE ATTRACTION ۞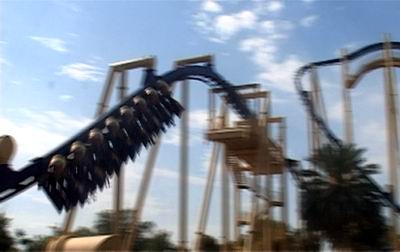 Montu (If I didn't have a yellow streak running down my back I would go on this).
Yet another crazy roller coaster where one takes their lives into their own hands.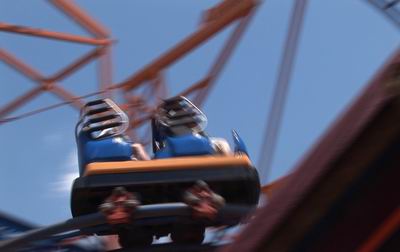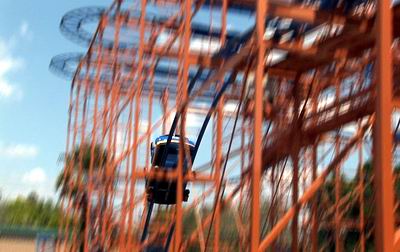 Cheetah Chase (If I didn't like...... well, you get the idea).
We used to call this the Mad Mouse here in England and I did go on one once.... Only once.
۞ SEE THE WHOLE ATTRACTION ۞

All good things come to an end, shame we have to leave.......
This is NOT one of those DVD presentations you get free through the door. All our DVD's are a faithful representation of the wonder and Joy everyone experiences at this Magical place.
If you haven't been to Busch Gardens in Florida then this is the DVD you need to show you what you're missing.
Filmed in 16:9 Widescreen and in region free format and guaranteed to get you down to the travel agent pronto. Maybe you always wondered what it was like at Busch Gardens in Florida or perhaps you've been there and want a reminder of the great time you had.
A Stereo Soundtrack with faithful sound makes this DVD a 'must have' for all you Universal fans. Although this is a holiday movie it is beautifully edited to give you the true Busch Gardens experience.
NOTE: Some scenes were recorded in standard definition.
The supplied DVD will be matched to your television system i.e. if you order from Canada you will receive an NTSC version. If you order from Ireland you will receive a PAL version.
This chart shows the television system in your country.
If you would like a different television system supplied (e.g. a gift for someone in another country) then please specify when ordering.
All supplied DVD's will, however, play on ANY COMPUTER with a software DVD player.
+++++++++++++++++++++++++++++++++++++++++++++++++++++++++++++++++++++++++++++++