Seventy Minutes of pure Walt Disney World Florida Christmas Magic on one Region Free DVD.
Marvel at Christmas at the Magic Kingdom and in all it's jaw dropping extravagance and attention to detail. Walt Disney once called Disneyland the most wondrous place on Earth, and he wasn't wrong!
Ah! Christmas at Walt Disney World Florida. What could be better?
This DVD takes you to place after place and attraction after attraction and features full attractions and shows that let you experience the following:
(all pictures taken directly from the DVD).........
Located on the banks of 25 acre Crescent Lake in Walt Disney World the Beach Club Resort sets you in a New England seaside resort in the 1880's. This holiday complex is a complete holiday destination all by itself, complete with beach front, sports complex and multiple swimming pools.
Inside, the rooms are, understandably, nautical in theme and the lobby boasts a gingerbread carousel made especially for the holiday season.
Complete with a sandy beach, it's own lighthouse, a view of Disney's Boardwalk across the lake and just a short walk from International Gateway, the back door entrance to EPCOT, makes this resort central for exploring the best of Disney.
۞ SEE THE WHOLE ATTRACTION ۞
Close by is Downtown Disney where Christmas comes to life with colourful decorations all around.
Disney Quest in a mega Games arcade, and then some. Five floors of high tech activities for young and old alike. The four themed zones include Explore, Score, Create and Replay and will keep the kids happy all day. Stops on the trip include Buzz Lightyear's AstroBlaster where bumper cars fire cannonballs at each other, Colonist Rescue where you drive a transport around, looking for earthlings to rescue and a virtual jungle cruise amongst others.
۞ SEE THE WHOLE ATTRACTION ۞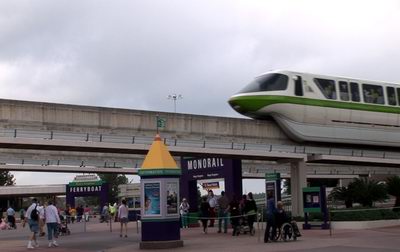 Climb aboard you transport in the sky to the Magic Kingdom. Feel the excitement build as you wind your way past and through hotels and the splendid and man made Seven Seas Lagoon.
Main Street at Christmas.
Nowhere else in the Universe does the Christmas Spirit come alive quite like Main Street USA. Already Spectacular building are adorned with Christmas splendour that makes the place take on a whole new warmth.
There's always something going on in Disney World. Main Street comes alive with street dancers and characters to get you even deeper into the holiday mood.
۞ SEE THE WHOLE ATTRACTION ۞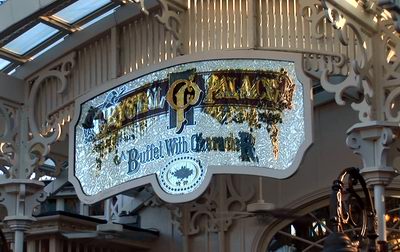 We stop off at Crystal Palace for lunch, with it's spectacular view of Cinderella's Castle. This Eatery is one of the Magic Kingdom's most cherished landmarks where you dine with Winnie the Pooh and his friends. A Victorian backdrop based on the San Francisco's Conservatory of Flowers makes this a special place to eat.
۞ SEE THE WHOLE ATTRACTION ۞
The Most Magical Structure of all is probably Cinderella's Castle standing at the heart of the Magic Kingdom. We take a close look at the grounds and take in the odd ugly sister or two.
۞ SEE THE WHOLE ATTRACTION ۞
It's A Christmas Small World.
The Small world ride with a Christmassy soundtrack.
A bit of artistic licence here as the parade bounces along to a Christmas song.
The Main Street Transport Company.
A trip down Main Street atop a double decker bus. Just remember to duck when passing all those Christmas decorations hanging across the way.
We board the monorail for a trip to the transport and ticket centre passing en route Disney's Grand Floridian Hotel and Spa, the Wedding Pavilion and the Polynesian.
This resort recalls the spirit of the early American West. All dolled up for Christmas complete with a giant Christmas Tree in the huge lobby. Situated on Bay lake, it is our starting point for a trip to the Seven Seas Lagoon.
۞ SEE THE WHOLE ATTRACTION ۞
7:
A trip to the Magic Kingdom on the Seven seas Lagoon.
۞ SEE THE WHOLE ATTRACTION ۞
The Seven Seas Light Show.
A floating pontoon light show set to music that features nightly on the Seven Seas Lagoon and visible from the shores of the Magic Kingdom as well as from hotels that surround the Seven Seas Lagoon..
Mickey's Very Merry Christmas Wishes.
Christmas Wishes firework spectacular (and I mean SPECTACULAR) That lights the sky above the Magic Kingdom like only Disney can do.
After a busy day we return to the Beach Club Resort Hotel for a look around at night.
۞ SEE THE WHOLE ATTRACTION ۞
This is NOT one of those Disney presentations you get free through the door, or a copy of a television programme (like some others offered on eBay). All our DVD's are a faithful representation of the wonder and Joy everyone experiences at this Magical place. You get to experience (or relive) the ACTUAL ride or attraction in it's entirety.
If you haven't been to Walt Disney World Florida then this is the DVD you need to show you what you're missing. Borrow someone's kid and go this year, you are never too old to enjoy the splendor that is The Magic Kingdom.
Filmed in 16:9 Widescreen and in region free format and guaranteed to get you down to the travel agent pronto. Maybe you always wondered what it was like at Walt Disney World Florida's Magic Kingdom, or perhaps you've been there and want a reminder of the great time you had.
A Stereo Soundtrack with faithful sound makes this DVD a 'must have' for all you Disney fans. Although this is a holiday movie it is beautifully edited to give you the true Disney experience.
Want to compare Walt Disney World Florida with other Disney parks? Check it out!
The supplied DVD will be matched to your television system i.e. if you order from Canada you will receive an NTSC version. If you order from Ireland you will receive a PAL version.
This chart shows the television system in your country.
If you would like a different television system supplied (e.g. a gift for someone in another country) then please specify when ordering.
All supplied DVD's will, however, play on ANY COMPUTER with a software DVD player.
+++++++++++++++++++++++++++++++++++++++++++++++++++++++++++++++++++++++++++++++
Available in PAL, NTSC and Hi-Definition Blu-Ray
All New Footage - Filmed using Hi Definition equipment- Adapted for viewing on a standard 16:9 Television
Walt Disney World Orlando Part 10 - A Wonder Winterland DVD - Region Free DVD. (NEW).