All New Footage - Filmed using Hi Definition equipment- Adapted for viewing on a standard 16:9 Television
Seventy Three Minutes of pure Walt Disney World Florida Magic on one Region Free DVD.
A Festive look at EPCOT and the World Showcase filmed in December 2009. Walt Disney once called Disneyland the most wondrous place on Earth, and he wasn't wrong!
This DVD takes you to place after place and let you experience the following:
(all pictures taken directly from the DVD).........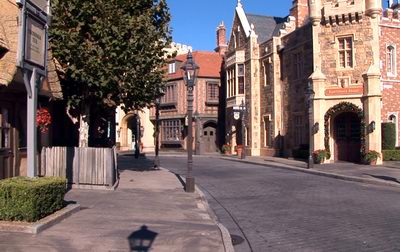 Early Morning at the United Kingdom Pavilion.
We start our Christmas trip at international gateway, the back door entrance to World Showcase that puts us smack in the middle of the United Kingdom Pavilion. It's early morning with very few people about so we get an unhindered view of this magical place. It somehow looks even more like home with the Christmas decorations.
۞ SEE THE WHOLE ATTRACTION ۞
Even Mexico has it's Christmas baubles but our main reason for visiting this pavilion is to take in Donald and his own attraction........
۞ SEE THE WHOLE ATTRACTION ۞
Join Donald and his friends for a journey through some cleverly produced scenes. Of course, being Donald you just know he's going to get into trouble. Catchy tune too!
۞ SEE THE WHOLE ATTRACTION ۞
A Christmas look at EPCOT.
Oh by Gosh by Golly, it's time for Giant Christmas Trees, splendid decorations and festive music all around that make it a special time to visit.
۞ SEE THE WHOLE ATTRACTION ۞
An in depth look at this Pavilion including the terracotta army, the wonderfully ornate decorations and the oriental shops that is China at it's most colourful.
Reflections of China is the 360 degree film showing the sights and sounds of China. Take a look at everything that is China.
Street acrobats and gymnasts bend over backwards to please the crowd - literally. A brilliant show full of amazing feats - recommended.
۞ SEE THE WHOLE ATTRACTION ۞
Will the REAL Santa stand up?
A look at Christmas traditions around the world and how each country has it's own variation of the wonderful Saint Nick story.
۞ SEE THE WHOLE ATTRACTION ۞
After a quick look at the architecture we climb aboard our Viking longboat for a turbulent trip through the history of Norway.
After the Boat ride you are treated to a short movie about Norway and then we take a look at the obligatory shop, cleverly situated on the way out.
۞ SEE THE WHOLE ATTRACTION ۞
A peaceful look around the world in the dark which is the prelude to the Fireworks display.
The Christmas Reflections of Earth.
The Christmas Reflections of Earth is the seasonal presentation with extra time on the end devoted to the season. Always spectacular and always worth the wait on those chilly nights.
۞ SEE THE WHOLE ATTRACTION ۞
As pitch darkness sets in we take a last look at Morocco, France and the United Kingdom before leaving the Park. Alas, all good things must come to an end.
۞ SEE THE WHOLE ATTRACTION ۞
This is NOT one of those Disney presentations you get free through the door, or a copy of a television programme (like some others offered on eBay). All our DVD's are a faithful representation of the wonder and Joy everyone experiences at this Magical place. You get to experience (or relive) the ACTUAL ride or attraction in it's entirety.
If you haven't been to Walt Disney World Florida then this is the DVD you need to show you what you're missing. Borrow someone's kid and go this year, you are never too old to enjoy the splendor that is Epcot's World Showcase.
Filmed in 16:9 Widescreen and in region free format and guaranteed to get you down to the travel agent pronto. Maybe you always wondered what it was like at Walt Disney World Florida's EPCOT, or perhaps you've been there and want a reminder of the great time you had.
A Stereo Soundtrack with faithful sound makes this DVD a 'must have' for all you Disney fans. Although this is a holiday movie it is beautifully edited to give you the true Disney experience.
Want to compare Walt Disney World Florida with other Disney parks? Check it out!
The supplied DVD will be matched to your television system i.e. if you order from Canada you will receive an NTSC version. If you order from Ireland you will receive a PAL version.
This chart shows the television system in your country.
If you would like a different television system supplied (e.g. a gift for someone in another country) then please specify when ordering.
All supplied DVD's will, however, play on ANY COMPUTER with a software DVD player.
+++++++++++++++++++++++++++++++++++++++++++++++++++++++++++++++++++++++++++++++
Available in PAL, NTSC and Hi-Definition Blu-Ray
Walt Disney World Orlando Part 11 - It's Christmas Time All Over The World - Region Free DVD. (NEW).