Sixty Two Minutes of pure Walt Disney World Florida Christmas Magic on one Region Free DVD.
Marvel at the Hollywood Studios in all it's jaw dropping extravagance and attention to detail. Walt Disney once called Disneyland the most wondrous place on Earth, and he wasn't wrong!
This DVD takes you to place after place and attraction after attraction and features full rides and shows that let you experience the following:
(all pictures taken directly from the DVD).........
Friendship Boat Ride to Hollywood Studios.
We start our Christmas visit to Hollywood Studios with a boat ride from Epcot area hotels, via the Swan & Dolphin, Yacht Club and Boardwalk Hotels. A giant Christmas tree greets us at the entrance to the Hollywood Studios.
The Christmas shop (Where it's ALWAYS Christmas).
We take a look around the streets, decorated with Christmas decorations.
۞ SEE THE WHOLE ATTRACTION ۞
The Sci-Fi Dine-In Theatre Restaurant.
Even having a meal is special in Disney World. What better way to enjoy a meal than sitting in your car in a drive-in movie watching 50's Sci-Fi snippets on a giant screen. Well, OK, it's not a real car but the effect is pretty good. Food's not bad either and you might even recognise some of the movies on show.
۞ SEE THE WHOLE RESTAURANT ۞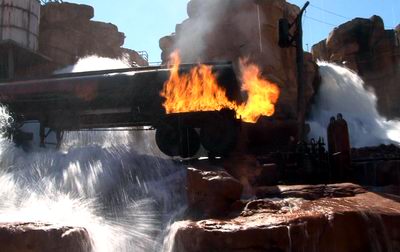 The Studio Backlot Tour takes a look at the efforts of various film and wardrobe departments that produce effects to enhance a finished movie. There are a great deal of 'unseen' aspects of a movie that go to make the movie complete and lifelike. From the clothes the actors wear to that plant on the balcony and that 1940's telephone that looks so real that all go to make the movie more realistic. This attraction gives you an insight into the many different tricks of the trade that go into film production. We start with the help of some unsuspecting volunteers that help to make a World War 2 movie, a look at various Wardrobe and set departments and a visit to Catastrophe Canyon where you might get wet.
A look at, in and around Mickey's Sorcerer's Hat, the central icon of the Hollywood Studios. Disney Characters visit on a regular basis.
۞ SEE THE WHOLE ATTRACTION۞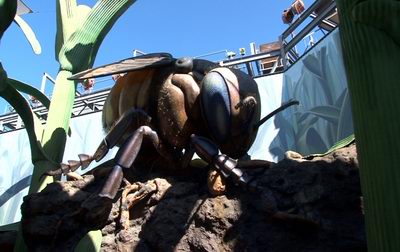 Honey, I Shrunk the Kids Movie Set Adventure.
Not so big now, are you? shrink yourself into something smaller than a fly and you can play in this magical area. Even the adults enjoy the sensation of being so small.
۞ SEE THE WHOLE ATTRACTION ۞
As darkness falls we take a look at the Hollywood streets and take in some Christmas festivity.
۞ SEE THE WHOLE ATTRACTION ۞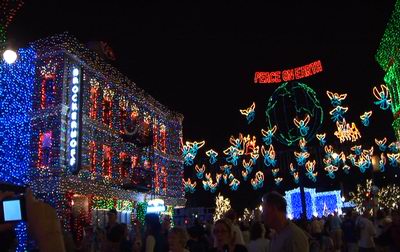 The Osborne Family Spectacle of Dancing Lights.
The Streets of America like you've never seen before, adorned with millions of Christmas lights that dance in sync with music for a dazzling display. If you don't feel Christmassy after this then there's no hope for you. Well worth the trip at Christmas time just for this spectacle.
۞ SEE THE WHOLE ATTRACTION ۞
Probably the most famous show at the Hollywood Studios and rightly credited as the best. Mickey's imagination runs riot, with the obligatory scary bit in the middle, but all turns out well in the end (as it always does). Every Disney Character you can think of has a part in this magical show that combines lasers, fireworks, live action, cartoon, film, fire and water. If you see no other show at Disney World Florida make sure you don't miss this one. Well worth the 90 minute wait.
This is NOT one of those Disney presentations you get free through the door, or a copy of a television programme (like some others offered on eBay). All our DVD's are a faithful representation of the wonder and Joy everyone experiences at this Magical place. You get to experience (or relive) the ACTUAL ride or attraction in it's entirety.
If you haven't been to Walt Disney World Florida then this is the DVD you need to show you what you're missing. Borrow someone's kid and go this year, you are never too old to enjoy the splendour that is The Disney Hollywood Studios.
Filmed in 16:9 Widescreen and in region free format and guaranteed to get you down to the travel agent pronto. Maybe you always wondered what it was like at Walt Disney World Florida's Hollywood Studios, or perhaps you've been there and want a reminder of the great time you had.
A Stereo Soundtrack with faithful sound makes this DVD a 'must have' for all you Disney fans. Although this is a holiday movie it is beautifully edited to give you the true Disney experience.
Want to compare Walt Disney World Florida with other Disney parks? Check it out!
The supplied DVD will be matched to your television system i.e. if you order from Canada you will receive an NTSC version. If you order from Ireland you will receive a PAL version.
This chart shows the television system in your country.
If you would like a different television system supplied (e.g. a gift for someone in another country) then please specify when ordering.
All supplied DVD's will, however, play on ANY COMPUTER with a software DVD player.
+++++++++++++++++++++++++++++++++++++++++++++++++++++++++++++++++++++++++++++++
Available in PAL, NTSC and Hi-Definition Blu-Ray
All New Footage - Filmed using Hi Definition equipment- Adapted for viewing on a standard 16:9 Television
Walt Disney World Orlando Part 12 - There's No Business Like Snow Business - Region Free DVD.