One Hour Twenty Minutes of pure Walt Disney World Florida Magic on one Region Free DVD.
Marvel at the Hollywood Studios in all it's jaw dropping extravagance and attention to detail. Walt Disney once called Disneyland the most wondrous place on Earth, and he wasn't wrong!
This DVD takes you to place after place and attraction after attraction and features full rides and shows that let you experience the following:
(all pictures taken directly from the DVD).........
We start our 2011 visit to Hollywood Studios with a step back in time at the 50's Prime Time Cafe. There are rules here, No elbows on the table and clean your plates, or no dessert! Mom is cooking typical American comfort foods in the kitchen, including meat loaf, old fashioned pot roast, fried chicken and home made Chicken noodle soup which is all served with some enthusiasm by her family members. Plastic covered tables and old fashioned televisions complete the illusion. Highly recommended.
۞ SEE THE WHOLE RESTAURANT ۞
Sing, Dance and even join in when the Disney Channel Rocks show hits the streets. Great songs and dance routines from some cool Disney Channel Movies. (the kids will know all these songs).......
Join Kermit and the gang for some typical Muppet mayhem. Brought to you in a theatre that looks exactly like the one in Jim Henson's Classic TV series. Staler and Waldork are sitting in the balcony too, giving their typically critical commentary on the show as the guys on stage demonstrate various (and hilarious) 3D effects. Of course it all goes horribly wrong in the end.
Nothing is real, but it certainly looks and feels like a street in New York. Fascinating views, incredible attention to detail and all just a facade.
۞ SEE THE FULL ATTRACTION ۞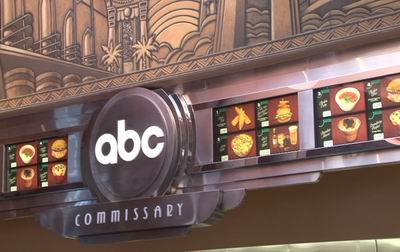 The ABC Commissary Restaurant.
OK, we're hungry again. We're only human. Time for a quick bite in the ABC Commissary Restaurant on Commissary Lane.
۞ SEE THE WHOLE RESTAURANT۞
Pixar Pals Countdown To Fun Parade.
Hollywood Boulevard comes alive with the Pixar Pals Countdown to Fun Parade. Join all the Pixar Movie stars as they dance to a catchy tune. Where else can you give a 'High Five' to a horse.
Lights, Motors, Action! Extreme Stunt Show.
Originally concepted in the Disneyland Paris MGM Studios Park in France this rendition closely follows the original 'script' with a few added extras. An attraction that blows the lid on Movie stunts and effects and shows you just some of the 'tricks' that film makers use to make movies more exiting and full of action. Of course, some seriously professional driving skills and impeccable timing are needed too. A terrific show, full of action and extreme effects. Don't miss this one!
The Streets of Hollywood Studios, 2011 style.
۞ SEE THE WHOLE ATTRACTION ۞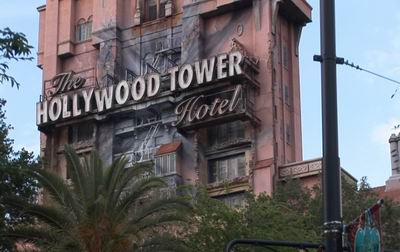 The Twilight Zone Tower of Terror.
A much requested attraction. Your Photographer eventually plucked up the courage to climb aboard the service elevator for this thrill ride. It was on halloween night way back in 1939 that lightening struck the Hollywood Hotel. An entire guest wing disappeared, along with a service elevator carrying five people. Nothing has changed since that fateful night, the lobby has deteriorated into what you see today, complete with cobwebs and crumbling masonry. Extraordinary effects abound and hang on to your hats as the only thing that stops you hitting the elevator roof as you plunge thirteen floors to oblivion is a seat strap.
This is NOT one of those Disney presentations you get free through the door, or a copy of a television programme (like some others offered on eBay). All our DVD's are a faithful representation of the wonder and Joy everyone experiences at this Magical place. You get to experience (or relive) the ACTUAL ride or attraction in it's entirety.
If you haven't been to Walt Disney World Florida then this is the DVD you need to show you what you're missing. Borrow someone's kid and go this year, you are never too old to enjoy the splendour that is The Disney Hollywood Studios.
Filmed in 16:9 Widescreen and in region free format and guaranteed to get you down to the travel agent pronto. Maybe you always wondered what it was like at Walt Disney World Florida's Hollywood Studios, or perhaps you've been there and want a reminder of the great time you had.
A Stereo Soundtrack with faithful sound makes this DVD a 'must have' for all you Disney fans. Although this is a holiday movie it is beautifully edited to give you the true Disney experience.
Want to compare Walt Disney World Florida with other Disney parks? Check it out!
The supplied DVD will be matched to your television system i.e. if you order from Canada you will receive an NTSC version. If you order from Ireland you will receive a PAL version.
This chart shows the television system in your country.
If you would like a different television system supplied (e.g. a gift for someone in another country) then please specify when ordering.
All supplied DVD's will, however, play on ANY COMPUTER with a software DVD player.
+++++++++++++++++++++++++++++++++++++++++++++++++++++++++++++++++++++++++++++++
Available in PAL, NTSC and Hi-Definition Blu-Ray
All New Footage Filmed using Hi Definition equipment- Adapted for viewing on a standard 16:9 Television
Walt Disney World Orlando Part 13 - The Reel Deal - Region Free DVD.