One Hour Seventeen Minutes of pure Walt Disney World Florida Magic on one Region Free DVD.
Marvel at the Magic Kingdom in all it's jaw dropping extravagance and attention to detail. Walt Disney once called Disneyland the most wondrous place on Earth, and he wasn't wrong!
Main Street USA is the street most people just pass through on their way to the Lands but look what you're missing by doing that.......
(all pictures taken directly from the DVD).........
Old Fantasyland and New Fantasyland.
We start our visit to The Magic Kingdom with a Look around Fantasyland and Cinderella's Castle. We also take a sneak peek at what is coming in 2012 when the New Fantasyland will be opened.
The Grand Floridian Hotel and Spa.
If you can afford to stay at this, the Premier Disney Hotel, then you will already know what true quality and unrivalled opulence is. Unfortunately we are not included in this category, but, we still bring you a look at this wonderful location. Set on the banks of the Seven Seas Lagoon, directly opposite the Magic Kingdom and adjacent to the Wedding Pavilion, we take a close look at the incredible architecture both outside and in.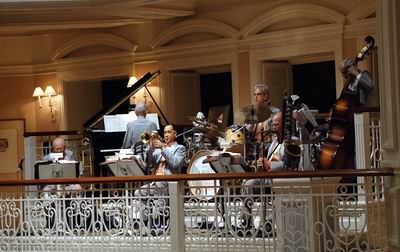 Hey!, they've got a band.
Inside is just as elite as the outside and an orchestra completes the luxury.
The 1900 Park Fare Restaurant.
We finish our visit with breakfast at the 1900 Park Fare Restaurant complete with English inspired Characters a plenty.
Back at the Magic Kingdom we take a stroll down Main Street USA.
۞ SEE THE WHOLE ATTRACTION ۞
The Main Street USA Dancers.
An old favourite and easily missed attraction which suddenly appears on Main Street. Singing and Dancing and a pleasant aside from the bustling shops. Just one of many attractions that people miss on their visit to the Magic Kingdom.
۞ SEE THE FULL ATTRACTION ۞
The Celebrate a Dream Come True Parade.
Unlike Disneyland Paris, Disney World Florida don't seem to change their Parades very often. Maybe it's different than the parade of the same name last year? Check it out.
Five o'clock is Flag Retreat time in the Magic Kingdom. Of course, this being the Magic Kingdom it's not a matter of simply taking a flag down, it's a whole entertainment experience with the Main Street Philharmonic, The Dapper Dans and a special guest veteran to complete the scene. Patriotic to the last, I almost put my own hand across my chest.
۞ SEE THE WHOLE CEREMONY ۞
As darkness approaches we take a look down Main Street as the shops take on a completely different look with the illuminated street signs, buildings and window displays.
The Main Street Electrical Parade.
At last! a new parade, well, not quite. It's actually an old parade that has been resurrected, albeit by popular demand. Still, well worth a look at and it certainly lights up the night sky with millions of coloured lights.
The Magic, the Memories and YOU.
This really is an amazing sight. The castle becomes a backdrop for an incredible laser show, starring YOU. Hundreds of pictures taken of the public throughout the day are projected onto the castle. This really is not to be missed, even if you don't happen to be one of the faces lasered onto the castle walls.
This is NOT one of those Disney presentations you get free through the door, or a copy of a television programme (like some others offered on eBay). All our DVD's are a faithful representation of the wonder and Joy everyone experiences at this Magical place. You get to experience (or relive) the ACTUAL ride or attraction in it's entirety.
If you haven't been to Walt Disney World Florida then this is the DVD you need to show you what you're missing. Borrow someone's kid and go this year, you are never too old to enjoy the splendour that is The Magic Kingdom.
Filmed in 16:9 Widescreen and in region free format and guaranteed to get you down to the travel agent pronto. Maybe you always wondered what it was like at Walt Disney World Florida's Magic Kingdom, or perhaps you've been there and want a reminder of the great time you had.
A Stereo Soundtrack with faithful sound makes this DVD a 'must have' for all you Disney fans. Although this is a holiday movie it is beautifully edited to give you the true Disney experience.
Want to compare Walt Disney World Florida with other Disney parks? Check it out!
The supplied DVD will be matched to your television system i.e. if you order from Canada you will receive an NTSC version. If you order from Ireland you will receive a PAL version.
This chart shows the television system in your country.
If you would like a different television system supplied (e.g. a gift for someone in another country) then please specify when ordering.
All supplied DVD's will, however, play on ANY COMPUTER with a software DVD player.
+++++++++++++++++++++++++++++++++++++++++++++++++++++++++++++++++++++++++++++++
Available in PAL, NTSC and Hi-Definition Blu-Ray
All New Footage Filmed using Hi Definition equipment- Adapted for viewing on a standard 16:9 Television
Walt Disney World Orlando Part 14 - Let The Memories Begin - Region Free DVD.