Available in PAL, NTSC and Hi-Definition Blu-Ray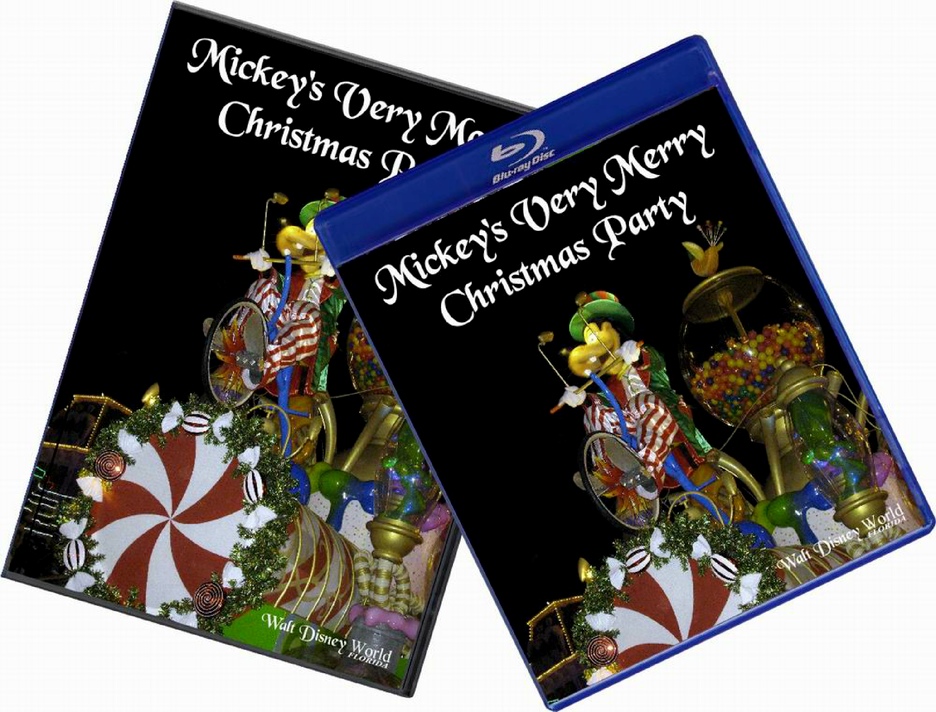 Fifty Six Minutes of pure Walt Disney World Florida Christmas Magic on one Region Free DVD.
Marvel at Christmas at the Magic Kingdom and in all it's jaw dropping extravagance and attention to detail. Walt Disney once called Disneyland the most wondrous place on Earth, and he wasn't wrong!
Ah! Christmas at Walt Disney World Florida. What could be better? You guessed it! Mickey's Very Merry Christmas Party. This pay per attendance event runs from December to January each year and is a must see attraction.
This DVD takes you to place after place and attraction after attraction and features full attractions and shows that let you experience the following:
(all pictures taken directly from the DVD).........
A Christmas Party Main Street.
Main Street USA takes on a transformation for Mickey's Very Merry Christmas Party. The street is illuminated in millions of glistening lights as you would expect at Christmas but, for this special occasion, the buildings are soaked in a chill glow that seems to lower the temperature all around. There are regular snow flurries too that complete the wintry night illusion. Just as well there are free drinking chocolate and cookies available to warm the night.
۞ SEE THE WHOLE ATTRACTION ۞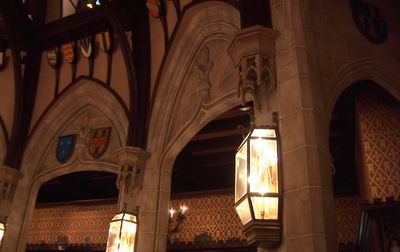 Cinderella's Royal Table.
Deep inside Cinderella's Castle is a dining experience well worth a visit. You have to book well in advance (180 days before your trip) and, if you are lucky, you can experience this special meal with Cinderella, the Fairy Godmother and a couple of very big mice. There is a Photo opportunity with Cinderella herself (included in the price) and a song and clap session with the Fairy Godmother and all in attendance. Inside the castle is just as you would expect the inside of a castle to look and feel.... check it out.
۞ SEE THE WHOLE ATTRACTION ۞
There's nothing like a good old sing-along to get you into the festive mood and this is the show to do just that. Terrific song and dance routines from start to finish with Mickey, Minnie, Donald, Goofy and Pluto. There are lots of special guests too, and not a villain in sight.
Cinderella's castle glistening in the background completes the Christmassy scene.
Mickey's Once Upon A Christmastime Parade.
Probably the best Parade you'll ever see at the Magic Kingdom.
All you favourite Disney Characters and a whole host of Festive Characters too.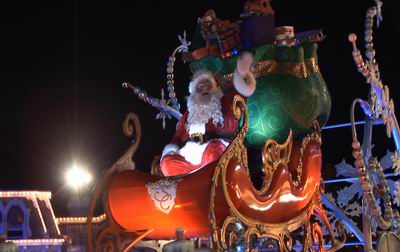 Of course Santa ends the parade in spectacular style.
This is NOT one of those Disney presentations you get free through the door, or a copy of a television programme (like some others offered on eBay). All our DVD's are a faithful representation of the wonder and Joy everyone experiences at this Magical place. You get to experience (or relive) the ACTUAL ride or attraction in it's entirety.
If you haven't been to Walt Disney World Florida then this is the DVD you need to show you what you're missing. Borrow someone's kid and go this year, you are never too old to enjoy the splendour that is The Magic Kingdom.
Filmed in 16:9 Widescreen and in region free format and guaranteed to get you down to the travel agent pronto. Maybe you always wondered what it was like at Walt Disney World Florida's Magic Kingdom, or perhaps you've been there and want a reminder of the great time you had.
A Stereo Soundtrack with faithful sound makes this DVD a 'must have' for all you Disney fans. Although this is a holiday movie it is beautifully edited to give you the true Disney experience.
Want to compare Walt Disney World Florida with other Disney parks? Check it out!
The supplied DVD will be matched to your television system i.e. if you order from Canada you will receive an NTSC version. If you order from Ireland you will receive a PAL version.
This chart shows the television system in your country.
If you would like a different television system supplied (e.g. a gift for someone in another country) then please specify when ordering.
All supplied DVD's will, however, play on ANY COMPUTER with a software DVD player.
+++++++++++++++++++++++++++++++++++++++++++++++++++++++++++++++++++++++++++++++
All New Footage - Filmed using Hi Definition equipment- Adapted for viewing on a standard 16:9 Television
Walt Disney World Orlando Part 15 - Mickey's Very Merry Christmas Party Region Free DVD.