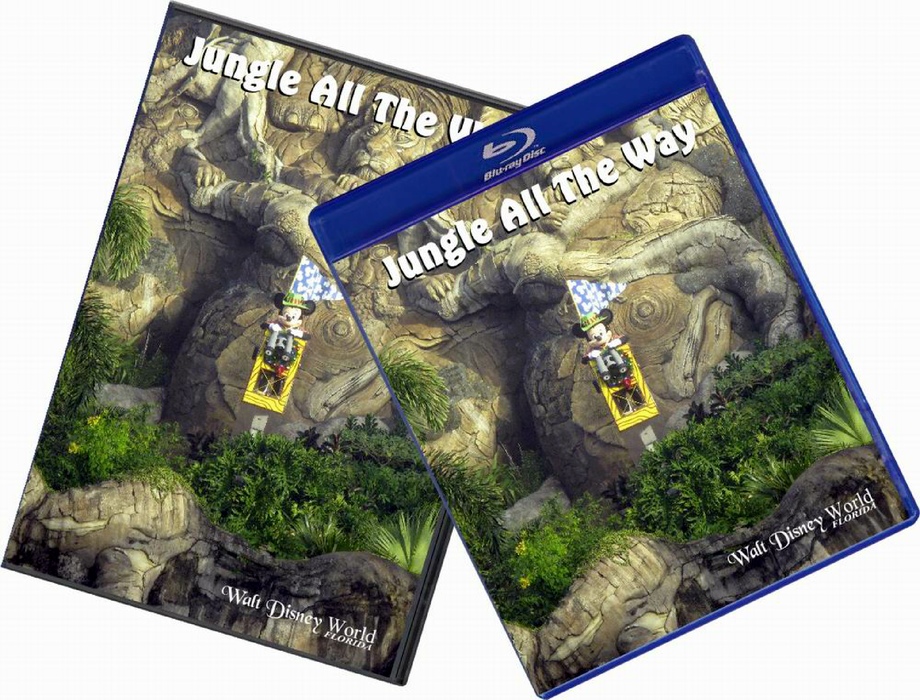 Sixty Four Minutes of pure Walt Disney World Florida Christmas Magic on one Region Free DVD.
Marvel at the Animal Kingdom in all it's tropical authenticity and attention to detail. Walt Disney once called Disneyland the most wondrous place on Earth, and he wasn't wrong!
This DVD takes you to place after place and attraction after attraction and features full rides, shows and attractions that let you experience the following:
(all pictures taken directly from the DVD).........
As we enter the park, past the giant Christmas tree just outside the gates to Disney's Animal Kingdom, we find ourselves being greeted by the most famous of all the Disney Characters.
۞ SEE THE WHOLE ATTRACTION ۞
The Christmas Drum Experience.
To get you in the Christmas mood as soon as we pass Discovery Island we come across an African style band playing music with a Christmas theme. Join Tracy and a host of other kids as they join the band for some great festive tunes.
Mickey's Jingle Jungle Parade.
Join Mickey and the gang for a Jingle in the jungle. Follow the caravan of crazy vehicles, tall animals and terrific Festive music that gets you dancing in the streets.
A Christmas Parade, and then some.
It's always a pleasure to browse the shops at Disney World but at Christmas they take on a whole new Christmassy look.
۞ SEE THE WHOLE ATTRACTION۞
Climb aboard your Time Rover for a dark, bumpy, shaky, fast and furious ride back in time. We find ourselves transported back to the age of Dinosaurs, just before the Giant Asteroid Impact that destroyed most life forms on Earth.
The idea is to transport back in time, grab a Dinosaur and bring it back to the present time. And just when you think you're not going to make it.....
There's no better place to meet and greet all your favourite Disney Characters than Camp Minnie Mickey.
۞ SEE THE WHOLE ATTRACTION ۞
The Festival of the Lion King.
The Festival of the Lion King is the must see show situated in Camp Minnie Mickey.
This really is a spectacular offering and highly recommended. Introduced by Timon, the cheeky Meerkat, with singing and dancing to the tunes we all love. DON'T MISS IT!
This is NOT one of those Disney presentations you get free through the door, or a copy of a television programme (like some others offered on eBay). All our DVD's are a faithful representation of the wonder and Joy everyone experiences at this Magical place. You get to experience (or relive) the ACTUAL ride or attraction in it's entirety.
If you haven't been to Walt Disney World Florida then this is the DVD you need to show you what you're missing. Borrow someone's kid and go this year, you are never too old to enjoy the splendour that is The Animal Kingdom.
Filmed in 16:9 Widescreen and in region free format and guaranteed to get you down to the travel agent pronto. Maybe you always wondered what it was like at Walt Disney World Florida's Animal Kingdom, or perhaps you've been there and want a reminder of the great time you had.
A Stereo Soundtrack with faithful sound makes this DVD a 'must have' for all you Disney fans. Although this is a holiday movie it is beautifully edited to give you the true Disney experience.
Want to compare Walt Disney World Florida with other Disney parks? Check it out!
The supplied DVD will be matched to your television system i.e. if you order from Canada you will receive an NTSC version. If you order from Ireland you will receive a PAL version.
This chart shows the television system in your country.
If you would like a different television system supplied (e.g. a gift for someone in another country) then please specify when ordering.
All supplied DVD's will, however, play on ANY COMPUTER with a software DVD player.
+++++++++++++++++++++++++++++++++++++++++++++++++++++++++++++++++++++++++++++++
Available in PAL, NTSC and Hi-Definition Blu-Ray
All New Footage - Filmed using Hi Definition equipment- Adapted for viewing on a standard 16:9 Television
Walt Disney World Orlando Part 16 - Jungle All The Way (Christmas) Region Free DVD. (NEW).