One Hour of pure Walt Disney World Florida Magic on one Region Free DVD.
Marvel at the Magic Kingdom in all it's jaw dropping extravagance and attention to detail. Walt Disney once called Disneyland the most wondrous place on Earth, and he wasn't wrong!
Disney World is not just rides and parades. There are surprises around every corner and some easily missed.
This DVD fills in some of the gaps and lets you experience the following:
(all pictures taken directly from the DVD).........
The Main Street Philharmonic.
We start our look at the Disney Experience in Liberty Square where the Main Street Philharmonic are showing just how good they really are as they let rip with some great Disney and American favourites. Even the kids help out.
After a quick glance around Liberty Square (and a wave to the paddle steamer captain) we have a bite to eat in the Liberty Square Tavern. It's somebody's Birthday but not sure they can eat all that cake?
۞ SEE THE WHOLE ATTRACTION ۞
A look at the old west, complete with country band.
۞ SEE THE FULL ATTRACTION ۞
The Dapper Dans of Main Street.
The Barber shop quartet that serenades all who pass through Main Street USA. Wonderful harmony and humour that gets you in the mood for a fun filled day at Disney World.
We all pass through it, some stopping to shop for that great Disney gift to take back home, some can't wait to get to Pirates of the Caribbean but how many of us actually stop to look at the attention to detail in every thing on show. It really is the most magical street in the world (unless you've been to Main Street USA in Disneyland Paris or Main Street USA in Disneyland California or..... you get my drift).
۞ SEE THE WHOLE ATTRACTION ۞
Fantasy Gardens Miniature Golf.
What better place to sink 18 holes than Fantasy Gardens. OK, it seemed like 28 holes, but we got there in the end. Still, the splendid scenery made up for the frustration trying to get the golf ball into those tiny holes.
۞ SEE THE FULL ATTRACTION ۞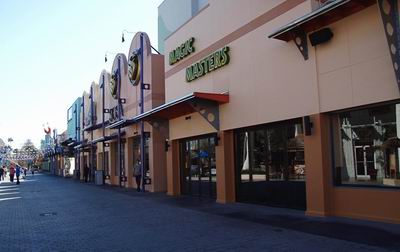 Just down the road from Fantasy Gardens is Downtown Disney. Strangely deserted for a change but at least it shows the architecture in it's full glory.
۞ SEE THE WHOLE ATTRACTION ۞
OK, I said there were no rides on this DVD..... I lied.
Climb aboard the Characters in Flights balloon ride for a top-down view of Down Town Disney and the surrounding parks. Those of you scared of heights, look away now.
Now that our feet are firmly back on the ground we can explore Pleasure Island to it's full. There's something to see or do around every corner'
۞ SEE THE FULL ATTRACTION ۞
The Polynesian Resort Hotel.
We take a look at one of the many themed hotels in Disney World Florida. The Polynesian is a south sea island paradise themed hotel with authentic decor throughout. What a treat for those of you who have been lucky enough to have stayed there.
۞ SEE THE FULL ATTRACTION ۞
Main Street Marching Band.
Back in Main Street USA we witness a marching band that look strangely English (although I doubt it). These bands march every now and then and usually represent a high school. All good stuff though.
۞ SEE THE FULL ATTRACTION ۞
Now for the real reason we are back in Main Street USA, the splendid fireworks display 'Wishes'.
They seem to have different fireworks every year though the tune is the same. Still, not to be missed.
This is NOT one of those Disney presentations you get free through the door, or a copy of a television programme (like some others offered on eBay). All our DVD's are a faithful representation of the wonder and Joy everyone experiences at this Magical place. You get to experience (or relive) the ACTUAL ride or attraction in it's entirety.
If you haven't been to Walt Disney World Florida then this is the DVD you need to show you what you're missing. Borrow someone's kid and go this year, you are never too old to enjoy the splendour that is The Magic Kingdom.
Filmed in 16:9 Widescreen and in region free format and guaranteed to get you down to the travel agent pronto. Maybe you always wondered what it was like at Walt Disney World Florida's Magic Kingdom, or perhaps you've been there and want a reminder of the great time you had.
A Stereo Soundtrack with faithful sound makes this DVD a 'must have' for all you Disney fans. Although this is a holiday movie it is beautifully edited to give you the true Disney experience.
Want to compare Walt Disney World Florida with other Disney parks? Check it out!
The supplied DVD will be matched to your television system i.e. if you order from Canada you will receive an NTSC version. If you order from Ireland you will receive a PAL version.
This chart shows the television system in your country.
If you would like a different television system supplied (e.g. a gift for someone in another country) then please specify when ordering.
All supplied DVD's will, however, play on ANY COMPUTER with a software DVD player.
+++++++++++++++++++++++++++++++++++++++++++++++++++++++++++++++++++++++++++++++
Available in PAL, NTSC and Hi-Definition Blu-Ray
All New Footage - Filmed using Hi Definition equipment- Adapted for viewing on a standard 16:9 Television
Walt Disney World Orlando Part 18 - The Disney Experience - Region Free DVD. (NEW).