All New Footage - Filmed using Hi Definition equipment- Adapted for viewing on a standard 16:9 Television
Available in PAL, NTSC and Hi-Definition Blu-Ray
One Hour Fifteen Minutes of pure Walt Disney World Florida Magic on one Region Free DVD or Blu-Ray.
A whistle stop tour around World Showcase lagoon with a quick stop at each of the eleven Pavilions looking at the various forms of entertainment on offer. Unlike any other Disney Park, and perhaps not for everyone, the World Showcase has representations of eleven countries from around the globe, each meticulous in it's attention to detail. Walt Disney once called Disneyland the most wondrous place on Earth, and he wasn't wrong!
This DVD takes you to place after place and let you experience the following:
(all pictures taken directly from the DVD).........
We start in France where, perched on three chairs on top of four bottles of Champagne balanced on a table we join a waiter and a chef with nothing better to do than scare the life out of passing guests.
Not a lot going on in Morocco but we do get to meet Jasmine and Aladdin.
۞ SEE THE WHOLE ATTRACTION ۞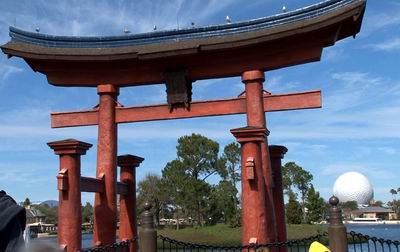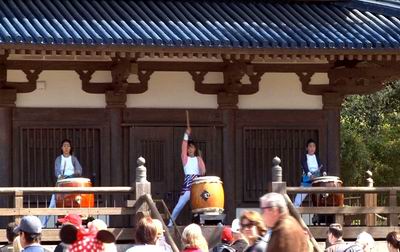 The Japanese pavilion has the Matsuriza Taiko Drummers on show.
۞ SEE THE WHOLE ATTRACTION ۞
Every day is independence day in the United States of America pavilion. Join the fife and drums and a whole host of enthusiastic kids for this celebration of all things American.
۞ SEE THE WHOLE ATTRACTION ۞
Ah Italy. What could be better than all that architecture, true to life and incredibly detailed. A Juggler entertains in the square to complete the illusion.
۞ SEE THE WHOLE ATTRACTION ۞
Nestled between Italy and Germany is the model railway. You can sit and watch them all day (at least us grown up kids - male variety of course).
۞ SEE THE WHOLE ATTRACTION ۞
Running Time (no pun intended) 2:12
Cuckoo clocks, town squares, ornate buildings, German beer, it's all here.
۞ SEE THE WHOLE ATTRACTION ۞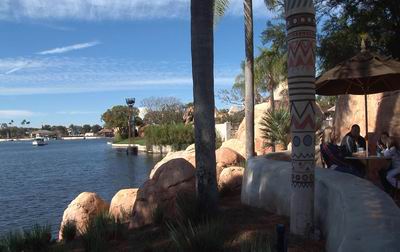 What a great place to stop and have a cool down. Just as well since we have to stop because the bridge has gone up blocking our way to China.
۞ SEE THE WHOLE ATTRACTION ۞
China at last. What better place to have a cup of tea. What, no tea? Maybe Mulan can help point the way.
۞ SEE THE WHOLE ATTRACTION ۞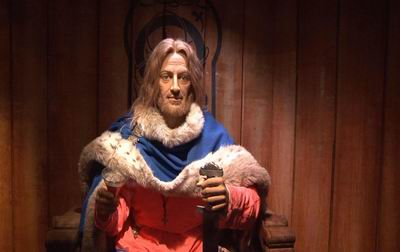 The Stave church gives us a potted history of the Vikings.
۞ SEE THE WHOLE ATTRACTION ۞
Mexico is a small pavilion but full of life and wonderful shopping. Where else can you buy a hat ten times bigger than your head? Great for the sun though.
۞ SEE THE WHOLE ATTRACTION ۞
Epcot is always worth a detour when visiting World Showcase.
۞ SEE THE WHOLE ATTRACTION ۞
In the Imagination institute there's a little character called Figment. Climb aboard your train for a ride through your senses.
When you leave the Figment ride you find yourself in the Image Works. Here you can play for hours, making music and enjoying the many effects on offer.
۞ SEE THE WHOLE ATTRACTION ۞
Mountains, snow, waterfalls and a trading post. All that Canada has to offer, not likely.... Take a look at Off Kilter. If you like Bagpipes you'll love this band.
۞ SEE THE WHOLE ATTRACTION ۞
Now that we've almost walked the 1.2 miles around the lagoon we find ourselves in good old England together with a good old British band.
۞ SEE THE WHOLE ATTRACTION ۞
When night falls what better way to finish the day than to grab yourself a seat and watch the terrific fireworks show that closes the park each night. Same tune as every year but at least the fireworks have changed.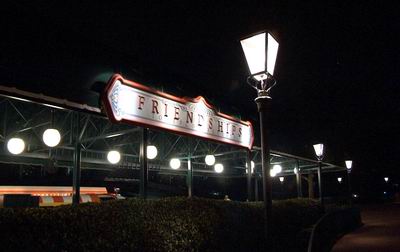 The end of a perfect day.
After all the excitement of the day what better way to end it than to have a look around the UK pavilion before sailing off to your hotel.
۞ SEE THE WHOLE ATTRACTION ۞
This is NOT one of those Disney presentations you get free through the door, or a copy of a television programme (like some others offered on eBay). All our DVD's are a faithful representation of the wonder and Joy everyone experiences at this Magical place. You get to experience (or relive) the ACTUAL ride or attraction in it's entirety.
If you haven't been to Walt Disney World Florida then this is the DVD you need to show you what you're missing. Borrow someone's kid and go this year, you are never too old to enjoy the splendour that is Epcot's World Showcase.
Filmed in 16:9 Widescreen and in region free format and guaranteed to get you down to the travel agent pronto. Maybe you always wondered what it was like at Walt Disney World Florida's Magic Kingdom, or perhaps you've been there and want a reminder of the great time you had.
A Stereo Soundtrack with faithful sound makes this DVD a 'must have' for all you Disney fans. Although this is a holiday movie it is beautifully edited to give you the true Disney experience.
Want to compare Walt Disney World Florida with other Disney parks? Check it out!
The supplied DVD will be matched to your television system i.e. if you order from Canada you will receive an NTSC version. If you order from Ireland you will receive a PAL version.
This chart shows the television system in your country.
If you would like a different television system supplied (e.g. a gift for someone in another country) then please specify when ordering.
All supplied DVD's will, however, play on ANY COMPUTER with a software DVD player.
+++++++++++++++++++++++++++++++++++++++++++++++++++++++++++++++++++++++++++++++
Walt Disney World Orlando Part 19 - A World of Entertainment DVD (NEW).