Walt Disney World Orlando Part 2 - Where Dreams Come True - Region Free DVD.
All New Footage - Filmed using Hi Definition equipment- Adapted for viewing on a standard 16:9 Television
Available in PAL, NTSC and Hi-Definition Blu-Ray
Seventy Two Minutes of pure Walt Disney World Florida Magic on one Region Free DVD.
Marvel at the Magic Kingdom in all it's jaw dropping extravagance and attention to detail. Walt Disney once called Disneyland the most wondrous place on Earth, and he wasn't wrong!
This DVD takes you to place after place and attraction after attraction and features full attractions and shows that let you experience the following:
(all pictures taken directly from the DVD).........
Climb aboard your Ferry at the Transportation and Ticket Centre for a gentle voyage on the Seven Seas Lagoon to the Magic Kingdom. Disney's superior transportation system means the fun begins even before you reach the Magic Kingdom.
۞ SEE THE WHOLE ATTRACTION ۞
Yee Haw Pardner. Welcome to these here parts. Around here yer might see a Disney Character in a spot o' bother or even a band of maraudin minstrels singin a dainty ditty. Either way yer in fer a real treat.
۞ SEE THE WHOLE ATTRACTION ۞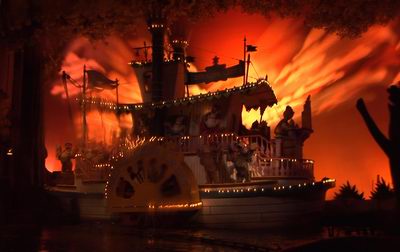 Make a big splash on this wet and wonderful ride. Watch out for that laughing place though, it's not so funny when you know what's coming at the top of that dark climb. Turns out the light at the end of the tunnel is only the start of your troubles
The Country Bear Jamboree.
While we are in these parts why not set a while and enjoy some real wild west culture, if you can bear it. Country and Western show featuring a band of unbearable characters (all of the audio-animatronics variety).
Heave to, Matey's. Shiver me timbers! was that Jack Sparrow (Sorry, CAPTAIN Jack Sparrow) Hiding in the entrance to a Ladies Dress shop? You bet it was and keep a sharp look out for Davy Jones and captain Barbossa too. A reworking of the great ride that inspired the great film that inspired the even greater ride, get my drift......
۞ SEE THE WHOLE ATTRACTION ۞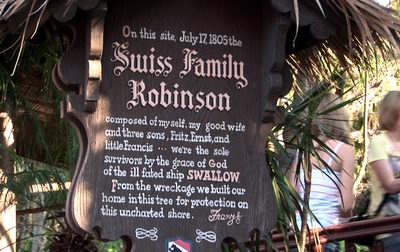 The Swiss Family Robinson Tree House.
If you've seen the film you'll recognise the scenes here replicated in terrific detail, down to the organ with the damaged key. Built on a Disney imagineered tree together with 300,000 lifelike polyethylene leaves. As the father said in the 1960 film 'everything we need is right at out fingertips'. Well worth the climb to the top.
۞ SEE THE FULL ATTRACTION ۞
Buzz Lightyear's Space Ranger Spin.
The Evil Emperor Zurg is collecting batteries to boost his power against the Galactic Alliance. It's Buzz Lightyear's task to stop Zurg and his evil band of robots from acquiring a single triple A, helped by his Junior space rangers (That means you people). Inspired by the video game in Toy Story 2 and a must visit attraction, even if you can't break the 1,000 point barrier.
Walt Disney's Carousel of Progress.
This show was Walt's own idea and a welcome rest for the feet. We start with our host just around the turn of the century, telling you about all the latest innovations and explaining how things just couldn't get any better. All of a sudden the Audience rotate around the stage and we are teleported twenty years into his future where our host is telling us all about the latest gadgets. This happens a few times, each time things seem to be better than ever. Watch out for Rover. He was either the oldest dog that ever lived or the family had a lack of imagination when it came to naming their pets. Great fun though.
Wishes is the night time Fireworks display that lights up the night sky in an explosion of dancing pyrotechnics and sound narrated by Jiminy Cricket. An eye popping extravaganza and not to be missed
This is NOT one of those Disney presentations you get free through the door, or a copy of a television programme (like some others offered on eBay). All our DVD's are a faithful representation of the wonder and Joy everyone experiences at this Magical place. You get to experience (or relive) the ACTUAL ride or attraction in it's entirety.
If you haven't been to Walt Disney World Florida then this is the DVD you need to show you what you're missing. Borrow someone's kid and go this year, you are never too old to enjoy the splendour that is The Magic Kingdom.
Filmed in 16:9 Widescreen and in region free format and guaranteed to get you down to the travel agent pronto. Maybe you always wondered what it was like at Walt Disney World Florida's Magic Kingdom, or perhaps you've been there and want a reminder of the great time you had.
A Stereo Soundtrack with faithful sound makes this DVD a 'must have' for all you Disney fans. Although this is a holiday movie it is beautifully edited to give you the true Disney experience.
Want to compare Walt Disney World Florida with other Disney parks? Check it out!
The supplied DVD will be matched to your television system i.e. if you order from Canada you will receive an NTSC version. If you order from Ireland you will receive a PAL version.
This chart shows the television system in your country.
If you would like a different television system supplied (e.g. a gift for someone in another country) then please specify when ordering.
All supplied DVD's will, however, play on ANY COMPUTER with a software DVD player.
+++++++++++++++++++++++++++++++++++++++++++++++++++++++++++++++++++++++++++++++