Walt Disney World Florida Part 21 - Magic on Parade - DVD or Blu-Ray Region Free (NEW)
All New Footage - Filmed using Hi Definition equipment in 2017 - Adapted for viewing on a standard 16:9 Television.
Available in DVD and Hi-Definition Blu-Ray.
Seventy Three Minutes of pure Walt Disney World Florida Magic on one Region Free DVD or Blu-Ray.
Marvel at the Magic Kingdom in all it's jaw dropping extravagance and attention to detail. Walt Disney once called Disneyland the most wondrous place on Earth, and he wasn't wrong!
This DVD takes you to place after place and attraction after attraction and features full attractions and shows that let you experience the following:
(all pictures taken directly from the DVD).........
Saratoga Springs Resort & Spar.
A quick look at the Saratoga Springs Resort & Spar. We check out a two bedroom villa.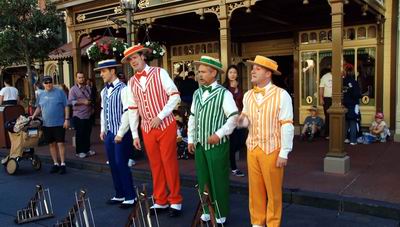 The Dapper Dans of Main Street.
Always a pleasure running into the Dapper Dans of Main Street, full of fun and song. Singing, joking and interacting with the crowd is what they do best.
۞ SEE THE WHOLE ATTRACTION ۞
The Main Street band in a march past down Main Street USA.
The Festival of Fantasy Parade.
All your favourite Disney Characters and more join the Festival Of Fantasy Parade on this 2017 offering. As usual, new dance routines, new song and lots of additions including characters from Frozen and Tangled as well as a fire breathing dragon
The Hoop Dee Doo Musical Review.
The Hoop Dee Doo Musical Review is a Family-Friendly Old Style Music Hall Dinner/Show with a Wild West Theme at Disney's Fort Wilderness Resort. Full of fun and audience participation it's a great night out. Shown here are the highlights, missing out the gap for the meal and some cast/audience banter, as the experience is over 2 Hours long.
Back to the Saratoga Springs Hotel.
After another great day it's time to return to our hotel for a well earned rest.
This is NOT one of those Disney presentations you get free through the door, or a copy of a television programme (like some others offered on eBay). All our DVD's are a faithful representation of the wonder and Joy everyone experiences at this Magical place. You get to experience (or relive) the ACTUAL ride or attraction in it's entirety.
If you haven't been to Walt Disney World Florida then this is the DVD you need to show you what you're missing. Borrow someone's kid and go this year, you are never too old to enjoy the splendour that is The Magic Kingdom.
Filmed in 16:9 Widescreen and in region free format and guaranteed to get you down to the travel agent pronto. Maybe you always wondered what it was like at Walt Disney World Florida's Magic Kingdom, or perhaps you've been there and want a reminder of the great time you had.
A Stereo Soundtrack with faithful sound makes this DVD a 'must have' for all you Disney fans. Although this is a holiday movie it is beautifully edited to give you the true Disney experience.
Want to compare Walt Disney World Florida with other Disney parks? Check it out!
The supplied DVD will be matched to your television system i.e. if you order from Canada you will receive an NTSC version. If you order from Ireland you will receive a PAL version.
This chart shows the television system in your country.
If you would like a different television system supplied (e.g. a gift for someone in another country) then please specify when ordering.
All supplied DVD's will, however, play on ANY COMPUTER with a software DVD player.
+++++++++++++++++++++++++++++++++++++++++++++++++++++++++++++++++++++++++++++++