Walt Disney World Florida Part 24 - May the Flicks be With You DVD or Blu-Ray.(NEW)
All New Footage - Filmed in 2017 using Hi Definition equipment- Adapted for viewing on a standard 16:9 Television
Available in PAL, NTSC and Hi-Definition Blu-Ray.
Fifty Seven Minutes of pure Walt Disney World Florida Magic on one Region Free DVD.
Join the Razzmatazz of Disney's Hollywood Studios where There's No Business like Show Business. Walk down the streets of Hollywoodland and take in all it's jaw dropping extravagance and attention to detail. Walt Disney once called Disneyland the most wondrous place on Earth, and he wasn't wrong!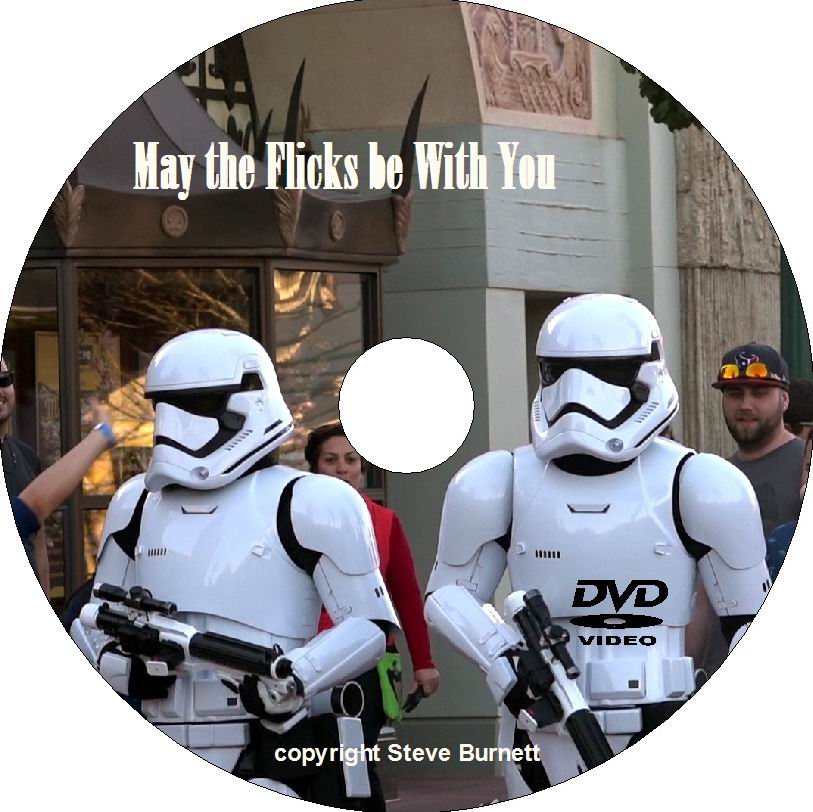 This DVD takes you to place after place and attraction after attraction and features full rides and shows that let you experience the following:
(all pictures taken directly from the DVD).........
Feel the excitement build as you board your tram for the ride into Park. Disney's Hollywood Studios is undergoing a transformation with lots of areas closed where Disney's Imagineers are busy creating new and exciting attractions but there's still a lot to see and do.
The Streets of Hollywoodland.
Step back in time as we take a quick look around the streets of Hollywoodland. There's a couple of shady characters mingling with the crowds and I'm wondering how they got past security?
۞ SEE THE WHOLE ATTRACTION ۞
The Hollywood Brown Derby Restaurant.
The best eating place in Hollywood Studios has to be the Hollywood Brown Derby Restaurant. You can spend hours looking at the caricatures and working out which Hollywood star they are and the food is something else. Next time you find yourself in Disney's Hollywood Studios give it a try. You can even get a fastpass for Fantasmic.
۞ SEE THE FULL RESTAURANT ۞
For the First Time in Forever: A Frozen Singalong.
A terrific show containing great songs from a brilliant movie, For the First Time in Forever: A Frozen Singalong is a must do experience. You can sing along at the top of your voice as the story of Anna and her sister Elsa unfolds.
Star Wars: A Galactic Spectacular.
Star Wars: A galactic Spectacular is Hollywood Studios night time fireworks display. Lasers, flame throwers, pyrotechnics and projections make this an absorbing experience that puts you smack in the middle of a space battle. Contains scenes from all the Star Wars Movies.
Another day comes to an end as we board our tram for the trip back to our hotel. It just means we have another fun filled day to look forward to tomorrow.
O.K. we got back to the Hotel and went to bed only to wake up at 3:00am in the morning (What time is it back home in Europe?). Being wide awake, nothing else to do than take a look at Disney's Boardwalk. Although it's the dead of night there was a surprising amount of people about (They can't all be from England.... can they?)
۞ SEE THE FULL ATTRACTION ۞
This is NOT one of those Disney presentations you get free through the door, or a copy of a television programme (like some others offered on eBay). All our DVD's are a faithful representation of the wonder and Joy everyone experiences at this Magical place. You get to experience (or relive) the ACTUAL ride or attraction in it's entirety.
If you haven't been to Walt Disney World Florida then this is the DVD you need to show you what you're missing. Borrow someone's kid and go this year, you are never too old to enjoy the splendour that is The Disney Hollywood Studios.
Filmed in 16:9 Widescreen and in region free format and guaranteed to get you down to the travel agent pronto. Maybe you always wondered what it was like at Walt Disney World Florida's Magic Kingdom, or perhaps you've been there and want a reminder of the great time you had.
A Stereo Soundtrack with faithful sound makes this DVD a 'must have' for all you Disney fans. Although this is a holiday movie it is beautifully edited to give you the true Disney experience.
Want to compare Walt Disney World Florida with other Disney parks? Check it out!
The supplied DVD will be matched to your television system i.e. if you order from Canada you will receive an NTSC version. If you order from Ireland you will receive a PAL version.
This chart shows the television system in your country.
If you would like a different television system supplied (e.g. a gift for someone in another country) then please specify when ordering.
All supplied DVD's will, however, play on ANY COMPUTER with a software DVD player.
+++++++++++++++++++++++++++++++++++++++++++++++++++++++++++++++++++++++++++++++