Walt Disney World Florida Part 27 - Screen Gems - DVD or Blu-Ray. (NEW)
All New Footage - Filmed in 2017 using Hi Definition equipment- Adapted for viewing on a standard 16:9 Television
Available in DVD and Hi-Definition Blu-Ray.
Fifty Seven Minutes of pure Walt Disney World Florida Magic on one Region Free DVD.
Join the Razzmatazz of Disney's Hollywood Studios where There's No Business like Show Business. Walk down the streets of Hollywoodland and take in all it's jaw dropping extravagance and attention to detail. Walt Disney once called Disneyland the most wondrous place on Earth, and he wasn't wrong!
This DVD takes you to place after place and attraction after attraction and features full rides and shows that let you experience the following:
(all pictures taken directly from the DVD).........
Disney Springs early in the morning is almost always mainly deserted. A great time to visit to see the sights.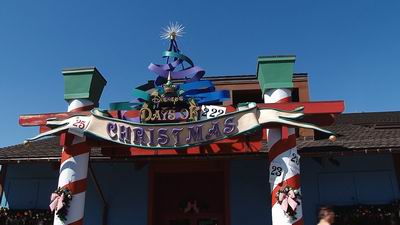 Disney's Days of Christmas.
Christmas comes but 365 times a year at the Disney Days of Christmas shop. Get stocked up with great Disney themed Christmas decorations.
۞ SEE THE WHOLE ATTRACTION ۞
The Blizzard Beach Water Park.
Melt-Away Bay, Cross Country Creek, Summit Plummet Chairlift etc. It's all here.
۞ SEE THE WHOLE ATTRACTION ۞
The Streets of Hollywood Studios.
A quick look around the streets of Hollywood Studios.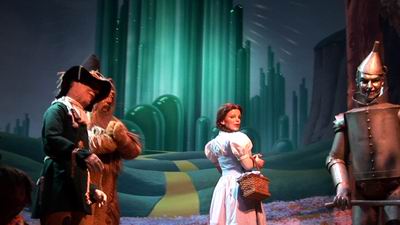 The Great Movie Ride Re-Imagined.
The 2017 offering which now has a Turner Classic Movies narration and a new film montage. Includes both interactive sections (Gangster AND Cowboy) .

Fast spinning cars in this shoot-em-up interactive game (How do they do it ????). Didn't get a high score but did get dizzy.

Toy Soldiers Hula Hoop Contest.
Just for kids (shame) Hula Hoop fun with extra large Toy Soldiers.
۞ SEE THE PART OF THE ATTRACTION ۞

The Star Wars March Past.
Stand Back, Characters crossing.... a few evil looks to boot.
۞ SEE THE FULL ATTRACTION ۞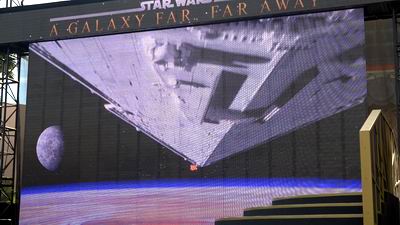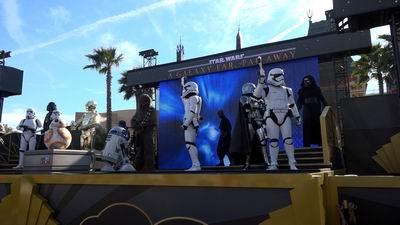 A history of the empire against the rebel forces told with scenes from all the star wars movies, periodically interrupted by live characters.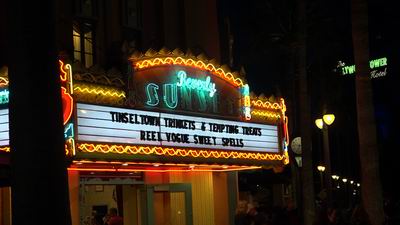 Hollywood Studios at Night.
As we take our leave we take a last look at the Hollywood Studios in the dark.
۞ SEE THE FULL ATTRACTION ۞

This is NOT one of those Disney presentations you get free through the door, or a copy of a television programme (like some others offered on eBay). All our DVD's are a faithful representation of the wonder and Joy everyone experiences at this Magical place. You get to experience (or relive) the ACTUAL ride or attraction in it's entirety.
If you haven't been to Walt Disney World Florida then this is the DVD you need to show you what you're missing. Borrow someone's kid and go this year, you are never too old to enjoy the splendour that is The Disney Hollywood Studios.
Filmed in 16:9 Widescreen and in region free format and guaranteed to get you down to the travel agent pronto. Maybe you always wondered what it was like at Walt Disney World Florida's Magic Kingdom, or perhaps you've been there and want a reminder of the great time you had.
A Stereo Soundtrack with faithful sound makes this DVD a 'must have' for all you Disney fans. Although this is a holiday movie it is beautifully edited to give you the true Disney experience.
Want to compare Walt Disney World Florida with other Disney parks? Check it out!
The supplied DVD will be matched to your television system i.e. if you order from Canada you will receive an NTSC version. If you order from Ireland you will receive a PAL version.
This chart shows the television system in your country.
If you would like a different television system supplied (e.g. a gift for someone in another country) then please specify when ordering.
All supplied DVD's will, however, play on ANY COMPUTER with a software DVD player.
+++++++++++++++++++++++++++++++++++++++++++++++++++++++++++++++++++++++++++++++