Walt Disney World Orlando Part 3 - The Most Magical Place of All - Region Free DVD. (NEW).
All New Footage - Filmed using Hi Definition equipment- Adapted for viewing on a standard 16:9 Television
Available in PAL, NTSC and Hi-Definition Blu-Ray
One Hour Fifteen Minutes of pure Walt Disney World Florida Magic on one Region Free DVD.
Marvel at the Magic Kingdom in all it's jaw dropping extravagance and attention to detail. Walt Disney once called Disneyland the most wondrous place on Earth, and he wasn't wrong!
This DVD takes you to place after place and attraction after attraction and features full rides and shows that let you experience the following:
(all pictures taken directly from the DVD).........
Dancing in the streets, great eats, entertainment galore and a lake shore. 120 acres of waterfront host everything from restaurants to entertainment sites. What more can you ask for....
Pleasure island of course. See it all.
۞ SEE THE WHOLE ATTRACTION ۞
A look around the Downtown Disney Rainforest cafe.
۞ SEE THE WHOLE ATTRACTION ۞
Turn left at Cinderella's castle, cross a bridge and you're into Liberty Square, place of the Hall of Presidents, the riverboat landing and the Haunted Mansion. Nestled between Frontierland and Fantasyland but with distinctive Georgian style architecture that sets it apart from it's neighbours.
۞ SEE THE FULL ATTRACTION ۞
This spooky journey through the Haunted Mansion in a 'Doom' Buggy is full of Ghostly apparitions, disembodied talking heads and a whole deathly array of tricks on the senses. Is that room actually stretching?
190 foot high and visible from all over the Magic Kingdom Cinderella's Castle is what Fantasy is all about and comes complete with a moat, gold encrusted mosaic murals and, of course, it's own wishing well.
۞ SEE THE WHOLE ATTRACTION ۞
Ahoy there, Tink! Don't miss this ride. Although the queue is always infinitely longer than the ride it's well worth the wait, if just to soar above London in a flying boat.
Mickey's Philharmagic should probably have been called Donald's Philharmagic as it is he who tries on Mickey's magical hat and attempts to conduct the Orchestra. Of course, everything goes wrong and we set forth on a magical adventure through some of Disney's greatest cartoon adventures trying to retrieve said hat. A 4D show (brought to you in stunning 2D) that generates giggles all the way.
If you're sick of waiting for that Florida shower, too hot to be bothered with living any more then this is the place to get wet and cool down. Even the birds have the right idea. Might be the coolest attraction in the Magic kingdom?
۞ SEE THE FULL ATTRACTION ۞
Celebrate A Dream Come True Parade.
The Main Street daytime parade that's full of all your favourite Disney Characters in a procession of storybook dreams, song and dance. Preceded by the Iowa West Marshal State Center brass marching band. Don't miss it!
The Tomorrowland Speedway.
The Tomorrowland Speedway is perhaps a bit of a poor description. The cars certainly look like racing cars and they even sound like racing cars, it's just that they don't move very fast. Of course that's an adult view. When you are only a few feet tall it might seem the fastest ride you've ever been on. Worth the wait if just to see how poor a driver you really are. Fortunately Disney have that covered too. with a central guide rail on the tarmac so you can't stray too far off the straight and narrow.
Tucked away behind the Tomorrowland speedway is Mickey's Toontown Where we encounter Mickey's and Minnie's houses.
Minnie's House.....................................Mickey's House.
Come on in, the door is always open at Mickey's and Minnie's house. They live just across the way from each other and share a garden. Nothing strange going on here though, not in toontown.
۞ SEE EACH ATTRACTION IN FULL ۞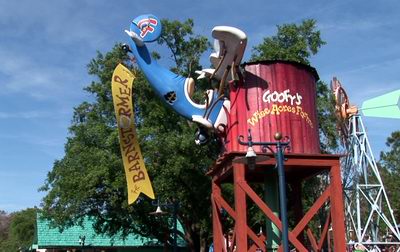 The Barnstormer at Goofy's Wiseacre Farm.
A Mini Coaster with a mighty wait. The Barnstormer at Goofy's Wiseacre Farm is probably the shortest ride in Walt Disney World's Magic Kingdom but has the longest queue. In the few seconds of the ride you get all shook up but feel a little disappointed at the length of the ride. Still, probably a sign that it's really quite enjoyable and therefore worth the wait. Presented here without the wait.
Main Street USA wouldn't be the same without the music of the turn of the century to give it that special character. Here we look at the Casey's Corner piano player followed by a look down the magical street.
۞ SEE THE FULL ATTRACTION ۞
Move it, Shake it, Celebrate it Street Party.
The Main Street comes alive with the best street party in town. Meet all your favourite Disney-Pixar characters in an extravaganza of song and dance. Join in the fun. You can't help tapping your feet.
The Many Adventures of Winnie the Pooh.
You would think this ride is strictly for the little ones but the Bouncy part of the ride that emulates Tigger is good fun for all.
Snow White's Scary Adventure.
Probably more scary than the Haunted Mansion to little one's but it's one of those rides you just have to climb aboard. In the true Disney fashion of course, everything ends happily ever after.
Keep your hands and arms inside the train and hang on to those hats and glasses, cos this is the wildest ride in the wilderness. Don't miss it!
This is NOT one of those Disney presentations you get free through the door, or a copy of a television programme (like some others offered on eBay). All our DVD's are a faithful representation of the wonder and Joy everyone experiences at this Magical place. You get to experience (or relive) the ACTUAL ride or attraction in it's entirety.
If you haven't been to Walt Disney World Florida then this is the DVD you need to show you what you're missing. Borrow someone's kid and go this year, you are never too old to enjoy the splendour that is The Magic Kingdom.
Filmed in 16:9 Widescreen and in region free format and guaranteed to get you down to the travel agent pronto. Maybe you always wondered what it was like at Walt Disney World Florida's Magic Kingdom, or perhaps you've been there and want a reminder of the great time you had.
A Stereo Soundtrack with faithful sound makes this DVD a 'must have' for all you Disney fans. Although this is a holiday movie it is beautifully edited to give you the true Disney experience.
Want to compare Walt Disney World Florida with other Disney parks? Check it out!
The supplied DVD will be matched to your television system i.e. if you order from Canada you will receive an NTSC version. If you order from Ireland you will receive a PAL version.
This chart shows the television system in your country.
If you would like a different television system supplied (e.g. a gift for someone in another country) then please specify when ordering.
All supplied DVD's will, however, play on ANY COMPUTER with a software DVD player.
+++++++++++++++++++++++++++++++++++++++++++++++++++++++++++++++++++++++++++++++