Walt Disney World Orlando Part 4 - Lights, Camera, Action - Region Free DVD. (NEW).
All New Footage - Filmed using Hi Definition equipment- Adapted for viewing on a standard 16:9 Television
Available in PAL, NTSC and Hi-Definition Blu-Ray
One Hour Seventeen Minutes of pure Walt Disney World Florida Magic on one Region Free DVD.
Join the Razzmatazz of Disney's Hollywood Studios where There's No Business like Show Business. Walk down the streets of Hollywoodland and take in all it's jaw dropping extravagance and attention to detail. Walt Disney once called Disneyland the most wondrous place on Earth, and he wasn't wrong!
This DVD takes you to place after place and attraction after attraction and features full rides and shows that let you experience the following:
(all pictures taken directly from the DVD).........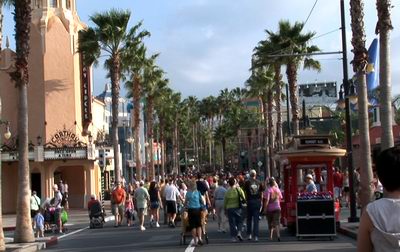 Step into Hollywood where entertainment takes on a whole new meaning. Feel like you are really there. Street entertainers complete the scene.
۞ SEE THE WHOLE ATTRACTION ۞
Beauty & the Beast - Live on Stage.
This wonderful Disney adaptation of Beauty and the Beast is brought to life in a spectacular 25 minute extravaganza of song and dance. Brilliantly sung and performed by a very credible Belle and Gaston and a joy to behold. If you like this story then you are in for a real treat.
Step INTO the movies on this terrific ride. After a quick look at movies past and present we board our Movie train and head off onto the movie sets of some of the greatest films ever produced. We start with a look at probably the most recognised scene in ANY movie where Gene Kelly performs Singin' in the Rain, complete with lamp post and rain.
Then on to Mary Poppins with Mary floating in mid air.
After a look at James Cagney we encounter a Gangster shootout. On the ride you either get the Gangster scene OR the Western scene but on this DVD you get to see both alternatives.
We then ride out West and join Clint Eastwood and John Wayne before a bank holdup takes place before our very eyes.
Now comes the scary bit where we are marooned on a space craft inhabited by some nasty aliens who need an incubator for their young, a human host that could just be you.
Indiana Jones is our next encounter complete with snakes and spooky onlookers. Watch out for the breath of God.
Tarzan was the original swinger, back in the days when his cry was the most famous sound in the movies.
Play it again Sam and you might see Bogey in this famous scene from Casablanca.
Next it appears we are no longer in Kansas, then up pops the wicked witch of the West, so realistic that you wonder if you are totally safe. Of course all you have to do is follow the yellow brick road to safety. Watch out for the Tin Man, The Lion, The Scarecrow and Dorothy on the way out.
A ride that's not to be missed.
Voyage of the Little Mermaid.
Join Ariel and the gang for an undersea adventure featuring great musical numbers, puppets, cartoons and live action.
Get set for a spin on the set of Toy Story. This 3D adventure (brought to you in 2D) takes you to scene after scene where you shoot at targets (and some of them shoot back) and try and get the day's highest score. Not as dizzy as it sounds and a great adventure for young and old alike.
This is NOT one of those Disney presentations you get free through the door, or a copy of a television programme (like some others offered on eBay). All our DVD's are a faithful representation of the wonder and Joy everyone experiences at this Magical place. You get to experience (or relive) the ACTUAL ride or attraction in it's entirety.
If you haven't been to Walt Disney World Florida then this is the DVD you need to show you what you're missing. Borrow someone's kid and go this year, you are never too old to enjoy the splendour that is The Disney Hollywood Studios.
Filmed in 16:9 Widescreen and in region free format and guaranteed to get you down to the travel agent pronto. Maybe you always wondered what it was like at Walt Disney World Florida's Magic Kingdom, or perhaps you've been there and want a reminder of the great time you had.
A Stereo Soundtrack with faithful sound makes this DVD a 'must have' for all you Disney fans. Although this is a holiday movie it is beautifully edited to give you the true Disney experience.
Want to compare Walt Disney World Florida with other Disney parks? Check it out!
The supplied DVD will be matched to your television system i.e. if you order from Canada you will receive an NTSC version. If you order from Ireland you will receive a PAL version.
This chart shows the television system in your country.
If you would like a different television system supplied (e.g. a gift for someone in another country) then please specify when ordering.
All supplied DVD's will, however, play on ANY COMPUTER with a software DVD player.
+++++++++++++++++++++++++++++++++++++++++++++++++++++++++++++++++++++++++++++++