Walt Disney World Orlando Part 5 - Now, That's Entertainment - Region Free DVD. NEW and UNPLAYED.
All New Footage - Filmed using Hi Definition equipment- Adapted for viewing on a standard 16:9 Television
Available in PAL, NTSC and Hi-Definition Blu-Ray
One Hour Twenty Minutes of pure Walt Disney World Florida Magic on one Region Free DVD.
Marvel at the Hollywood Studios in all it's jaw dropping extravagance and attention to detail. Walt Disney once called Disneyland the most wondrous place on Earth, and he wasn't wrong!
This DVD takes you to place after place and attraction after attraction and features full rides and shows that let you experience the following:
(all pictures taken directly from the DVD).........
There will be Dancing in the streets, great eats and entertainment galore. Shop 'till you drop and have a street party. Take a look along the Streets of America, Hollywood Boulevard, Sunset Boulevard, Mickey Avenue, Pixar Place and Commissary Lane. Everything happens on the street of dreams....
Have a quick bite in Buzz Lightyear's Pizza Planet too.........
۞ SEE THE WHOLE ATTRACTION ۞
High School Musical 3: Senior Year. Right Here! Right Now!
Join the Wildcats for a song and dance spectacular.
If you like High School Musical Films you are going to love the live show.
The Indiana Jones Epic Stunt Spectacular
The Indiana Jones Epic Stunt Spectacular is an edge of the seat live show that not only shows you live action scenes from the Indy Movies but also explains how these dangerous stunts are created.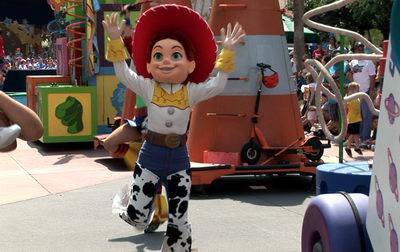 The Street Party Block Bash.
Come on People, put on those dancing shoes 'cos you're going to need them.
Join Woody and all the PIXAR gang for a street party like no other. Watch out for Mr. Potato Head, a whole host of dancers and the odd trampoline. You just can't help tapping those toes.........
۞ SEE THE WHOLE STREET PARTY ۞
Walt Disney: One Man's Dream.
Meet the man who is responsible for it all. Take a look at the History of Disney, The ups and the downs, the reason he started Disney World and how he did it.
The Story of Disney studios and Disneyland is introduced by Julie Andrews and Walt himself tells you the Story of how it all came about. A fascinating and endearing story that's not to be missed.
۞ SEE THE WHOLE ATTRACTION ۞
This is NOT one of those Disney presentations you get free through the door, or a copy of a television programme (like some others offered on eBay). All our DVD's are a faithful representation of the wonder and Joy everyone experiences at this Magical place. You get to experience (or relive) the ACTUAL ride or attraction in it's entirety.
If you haven't been to Walt Disney World Florida then this is the DVD you need to show you what you're missing. Borrow someone's kid and go this year, you are never too old to enjoy the splendour that is The Disney Hollywood Studios.
Filmed in 16:9 Widescreen and in region free format and guaranteed to get you down to the travel agent pronto. Maybe you always wondered what it was like at Walt Disney World Florida's Hollywood Studios, or perhaps you've been there and want a reminder of the great time you had.
A Stereo Soundtrack with faithful sound makes this DVD a 'must have' for all you Disney fans. Although this is a holiday movie it is beautifully edited to give you the true Disney experience.
Want to compare Walt Disney World Florida with other Disney parks? Check it out!
The supplied DVD will be matched to your television system i.e. if you order from Canada you will receive an NTSC version. If you order from Ireland you will receive a PAL version.
This chart shows the television system in your country.
If you would like a different television system supplied (e.g. a gift for someone in another country) then please specify when ordering.
All supplied DVD's will, however, play on ANY COMPUTER with a software DVD player.
+++++++++++++++++++++++++++++++++++++++++++++++++++++++++++++++++++++++++++++++