Walt Disney World Orlando Part 7-Back To The Futureworld DVD - Region Free DVD. (NEW).
All New Footage - Filmed using Hi Definition equipment- Adapted for viewing on a standard 16:9 Television
One Hour Twenty Minutes of pure Walt Disney World Florida Magic on one Region Free DVD.
The Experimental Prototype Community Of Tomorrow is The Disney Park of the Future. Be amazed at the technology on display and learn in an entertaining way all about the world and it's future. Walt Disney once called Disneyland the most wondrous place on Earth, and he wasn't wrong!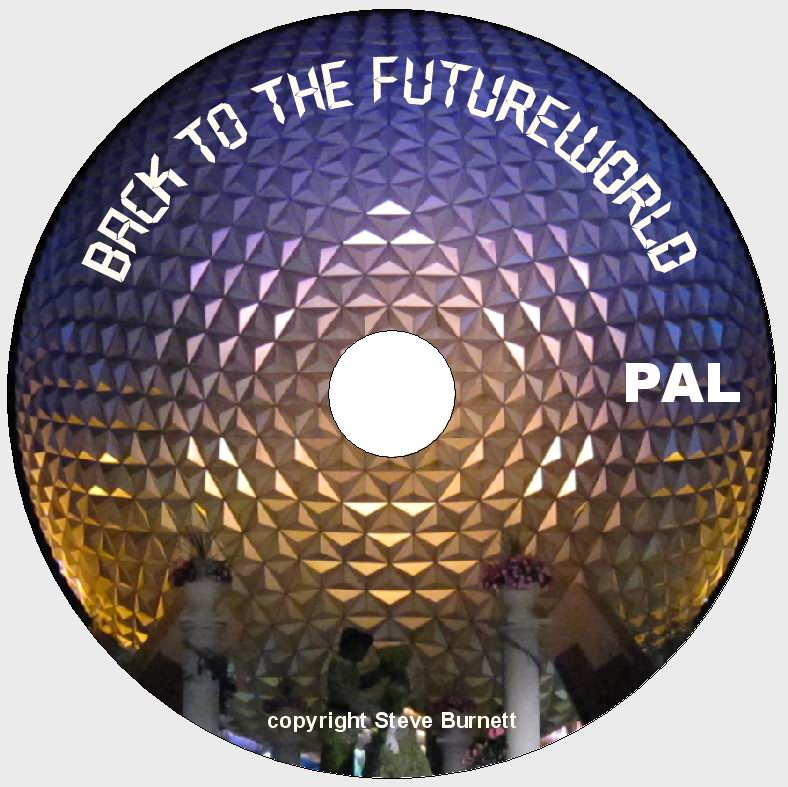 This DVD takes you to place after place and let you experience the following:
(all pictures taken directly from the DVD).........
Travel back to the dawn of man and learn how we started and continued to communicate throughout history and how this was key in our progress to the futureworld we know today. This must see attraction features scenes from 30,000 years ago up to today and into the future. Each scene meticulous in it's attention to detail like the real Hieroglyphics on the Egyptian temple. The final scene, at the top of the dome, depicts Planet Earth then you turn around for the journey back to today and are kept amused by some amazing technology.
Just when you think you've seen it all, Spaceship Earth deposits you in Project Tomorrow. A futuristic games arcade and then some.
۞ SEE THE WHOLE ATTRACTION ۞
The International Flower And Garden Festival.
In March/April Epcot comes alive with stunning flower arrangements, well laid out garden displays and every opportunity to show the gardeners skills that spread colour and brightness throughout the park. Attracts a few none paying guests too, though nobody minds.
۞ SEE THE WHOLE ATTRACTION ۞
The Seas With Nemo And Friends.
Climb aboard you Clam Mobile for an undersea adventure starring Nemo, the little clown fish. Well, if he hasn't gone and done it again. Get lost, I mean. Based on the Movie and cleverly done this ride is a joy for the little ones and amazement for the rest of us. After Nemo is found we take a look around the Caribbean Coral Reef where we meet the real guys.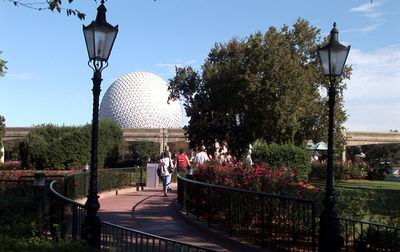 A quick look around Epcot at the streets and scenes including a waterfall that goes UP. Maybe it's a waterclimb?
۞ SEE THE WHOLE ATTRACTION ۞
Astronaut Training Simulator and team based game. Blast off for Mars and hang on to everything loose. Strictly for the big kids with no cameras allowing in the simulator.
۞ SEE THE PRE SHOW AND GAME ۞
Every hour, on the hour the fountain spurts and squirts to a musical accompaniment. People stop dead in their tracks to take in the show. Some have been known to get just a little bit wet.
Easily missed and not generally advertised attraction that fills a corner of the Park. Two trains pass endlessly but the models and buildings are next to none when it comes to detail. Don't know how Donald got in there though?
۞ SEE THE WHOLE ATTRACTION ۞
Climb aboard your slow moving boat for an adventure in plant and fish husbandry. Learn how we manage insects and protect wild species around the world with innovative solutions, some of which are a direct Government/Disney collaboration. Fascinating stuff though the young ones might be a tad bored.
۞ SEE THE WHOLE ATTRACTION ۞
If ever there was an attraction that begged the question 'How do they do that' then this is it. You are seated in a tank, surrounded by water and along comes Crush, the Green Sea Turtle from Finding Nemo. Ask Crush a question and he answers right back, interactively. Terrific attraction loved by all who attend.
Finally we pop over to the French pavilion in World Showcase and take in the Impressions De France show, depicting the people, scenes and attractions of France.
This is NOT one of those Disney presentations you get free through the door, or a copy of a television programme (like some others offered on eBay). All our DVD's are a faithful representation of the wonder and Joy everyone experiences at this Magical place. You get to experience (or relive) the ACTUAL ride or attraction in it's entirety.
If you haven't been to Walt Disney World Florida then this is the DVD you need to show you what you're missing. Borrow someone's kid and go this year, you are never too old to enjoy the splendour that is Epcot.
Filmed in 16:9 Widescreen and in region free format and guaranteed to get you down to the travel agent pronto. Maybe you always wondered what it was like at Walt Disney World Florida's Magic Kingdom, or perhaps you've been there and want a reminder of the great time you had.
A Stereo Soundtrack with faithful sound makes this DVD a 'must have' for all you Disney fans. Although this is a holiday movie it is beautifully edited to give you the true Disney experience.
Want to compare Walt Disney World Florida with other Disney parks? Check it out!
The supplied DVD will be matched to your television system i.e. if you order from Canada you will receive an NTSC version. If you order from Ireland you will receive a PAL version.
This chart shows the television system in your country.
If you would like a different television system supplied (e.g. a gift for someone in another country) then please specify when ordering.
All supplied DVD's will, however, play on ANY COMPUTER with a software DVD player.
+++++++++++++++++++++++++++++++++++++++++++++++++++++++++++++++++++++++++++++++
Available in PAL, NTSC and Hi-Definition Blu-Ray