Eurodisney - Disneyland Paris Part 1 - A Look at the Magic - Region Free DVD.
Available in PAL and NTSC
One Hour Twenty Minutes of pure Disney Magic on one Region Free DVD. Feel the Magic, Marvel at the attention to detail and wonder at the warmth of it all. Walt Disney once called Disneyland the most wondrous place on Earth, and he wasn't wrong!
This DVD takes you to place after place and attraction after attraction and features full rides that let you experience the following:
(all pictures are taken directly from the DVD).........
Step back in time to small town America at the turn of the 20th century. It's a world of gas lamps and horse drawn streetcars. Check out the Arcade where you can Eat and shop 'till you drop. Marvel at the architecture, the colour and the attention to detail. Walk down Main Street USA and you'll feel the Magic of Disneyland with every step.
۞ SEE THE WHOLE ATTRACTION ۞
The largest of the five lands, Frontierland is a look back in time at a typical gold rush town, full of spectacular Wild West scenery complete with trading stores, a saloon and a vast lake with paddlewheel riverboats. You can almost smell the gunpowder........
۞ SEE THE WHOLE ATTRACTION ۞
Climb aboard at the Riverboat Landing for a gentle trip around Big Thunder Mountain, passing smugglers cove, wilderness island and Geyser Plateau.
This eerie ramshackle manor, the basis for the motion picture Haunted Mansion, is an incredible ride. Perched on a hill next to the Boot Hill Graveyard this old house was once inhabited by one of the founding members of Thunder Mesa, who's daughter was jilted on her wedding day, never to be seen again....... ALIVE that is. Spooky effects are in abundance and watch out when you climb aboard your Doom Buggy, well worth the spine chilling ride.
At the heart of the town lies the Thunder Mesa Mining Company who run the rickety mine trains that rattle around Thunder Mountain. Climb aboard for the most exciting attraction in Frontierland, where you take a ride in one of these runaway trains.
۞ SEE MOST OF THE RIDE (EXTERNAL VIEW) (THE FULL RIDE IS AVAILABLE ON DISNEYLAND PARIS PART 3) ۞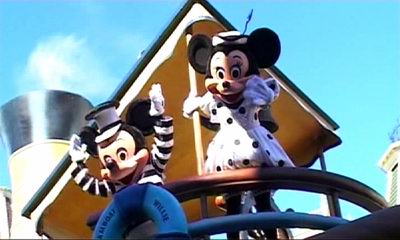 The Main Street Parade is Disneyland coming to life. Majestic floats depicting scenes from Disney's finest Movies roll down Main Street preceded by all those cartoon characters that you know and love. Marvel at the colours, shake hands with the Disney Legends and dance to the music. Not to be missed.
A small boy's paradise (and the big boys too). Pirate ships, battlements, rivers, lakes and spooky pirate caves...... brilliant!!!!
۞ SEE THE WHOLE ATTRACTION ۞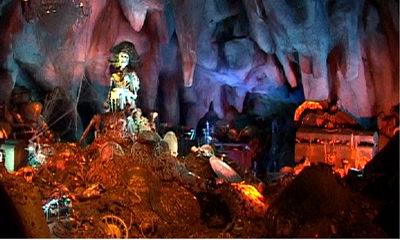 Pirates of the Caribbean.
Climb aboard your creaky longboat for an unforgettable ride through some rough waters, battles and drunken pirate excesses. Go UP a waterfall to find the bewitched treasure that the film of the same name was based on. Look out for scenes that are included in the movie. 112 Audio-Animatronic figures bring the scenes to life. Disney Imagineering at it's best.
We travel outside the Disney park to Sea Life Paris, a short train ride away. Shark infested waters and sea creatures galore, from rays to sea horses and a lot more between.
۞ SEE THE WHOLE ATTRACTION ۞
Step into Hollywood. Meet Walt and Mickey as you enter the park and shake hands with the stars of Toy Story and the Incredibles amongst others.
۞ SEE THE WHOLE ATTRACTION ۞
The original Disney Stunt Show, now copied in Orlando because of it's great success. Fasten your seat belts for some great stunt driving and stunning visual effects.
۞ SEE THE WHOLE ATTRACTION ۞
_
Take a train ride around the back lot. See how movies are made, but watch out for Catastrophe Canyon where Earthquakes and floods keep you spellbound. Visit London, like you've never seen it before.
Not just another parade, a musical extravaganza with all those characters from your favourite movies.
Sleeping Beauty's Castle.
Based on 17th Century literature and just what a castle should look like. Complete with a moat, this 149 foot castle stands at the centre of the park and is a must explore attraction. Inside, marvel at the stained glass windows depicting the Sleeping Beauty story but don't get too close to that spinning wheel in the corner.
۞ SEE THE WHOLE ATTRACTION ۞
It's a small world after all, the catchy tune that you'll find yourself singing as you travel by boat around this colourful experience. A Look at the world through the eyes of children where race and language are not a barrier to friendship. 281 dolls dressed in their national costumes and singing in their own language. Designed for the very young (and the young at heart) and not to be missed.
This is NOT one of those Disney presentations you get free through the door, or a copy of a television programme (like some others offered on eBay). All our DVD's are a faithful representation of the wonder and Joy everyone experiences at this Magical place. You get to experience (or relive) the ACTUAL ride or attraction in it's entirety.
If you haven't been to Disneyland Paris then this is the DVD you need to show you what you're missing. Borrow someone's kid and go this year, you are never too old to enjoy the splendor that is Disneyland Paris.
Filmed in 16:9 Widescreen and in region free format and guaranteed to get you down to the travel agent pronto. Maybe you always wondered what it was like, or perhaps you've been there and want a reminder of the great time you had.
A Stereo Soundtrack with faithful sound makes this DVD a 'must have' for all you Disney fans. Although this is a holiday movie it is beautifully edited to give you the true Disney experience.
Want to compare Eurodisney with other Disney parks? Check it out!
The supplied DVD will be matched to your television system i.e. if you order from Canada you will receive an NTSC version. If you order from Ireland you will receive a PAL version.
This chart shows the television system in your country.
If you would like a different television system supplied (e.g. a gift for someone in another country) then please specify when ordering.
All supplied DVD's will, however, play on ANY COMPUTER with a software DVD player.
+++++++++++++++++++++++++++++++++++++++++++++++++++++++++++++++++++++++++++++++