Eurodisney - Disneyland Resort Paris Part 10 - Fastpass to the Fun - Region Free DVD. (NEW).
All New Footage - Filmed using Hi Definition equipment- Adapted for viewing on a standard 16:9 Television
Available in PAL, NTSC and Hi-Definition Blu-Ray
Fifty Eight Minutes of pure Disney Magic on one Region Free DVD. Feel the Magic, Marvel at the attention to detail and wonder at the warmth of it all. Walt Disney once called Disneyland the most wondrous place on Earth, and he wasn't wrong!
This DVD takes you to place after place and attraction after attraction and features full attractions that let you experience the following:
(all pictures taken directly from the DVD).........
In the last of the series, we start at the Newport Bay Hotel, Called the Newport Bay Club, taking in the Cape Cod Restaurant. We also bump into Goofy whilst looking around the Hotel.
۞ SEE THE WHOLE ATTRACTION ۞
Walt's an American Restaurant.
We pop into Walt's An American Restaurant situated on Main Street. An authentic American Style Restaurant dedicated the life and works of Walt Disney himself.
۞ SEE THE WHOLE ATTRACTION ۞
Ah! Fantasyland. The most magical place of all. Full of magic and dreams. In this DVD we show you almost all of what Fantasyland has to offer.
Le Carrousel de Lancelot and Dumbo the Flying Elephant.
External views of Le Carrousel de Lancelot and Dumbo the Flying Elephant are included.
۞ SEE THE WHOLE ATTRACTION ۞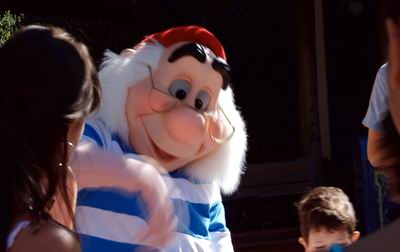 Alice's Curious Labyrinth and Smee.
It's aMAZEing (sorry about that) but you can't help but be mesmerized by those wonderful splashing fountains as they dance around the attraction. We also bump into Smee on our travels.
۞ SEE THE WHOLE ATTRACTION ۞
Le Pays des Contes de Fees (The land of fairy tales).
Le Pays des Contes de Fees or the Land of Fairy Tales should probably be called the sea of Fairy Tales as the trip around this miniature masterpiece is by boat. A not to be missed gentle cruise and a welcome sit down.
Casey Jr. Le Patit Train du Cirque.
Casey Junior, the little circus Train is always a highlight for young and old. Surprisingly fast and bumpy and a great tune.
It's Fish & chips time. If you're British then this is the Restaurant for you, serving genuine Fish and Chips from an establishment that looks and feels just like an English Pub.
۞ SEE THE WHOLE ATTRACTION ۞
Swirl around in giant tea cups. Shaken, not stirred......
You just can't help singing along with the catchy tune (no matter how much you try). Kids love this ride, Adults start off loving it and end up a bit sick (after travelling around this colourful attraction twenty times). I guess I never grew up, I still love it.
The queue for this ride is always a lot longer than the ride itself, but you just can't help yourself. A trip to Disneyland Paris simply has to include at least one ride aboard your pirate ship to Neverland. One of those really dark, jumpy rides but worth it as you soar above London.
Blanche-Neige et les Sept Nains. (Snow White and the Seven Dwarfs)
Climb aboard your mine train for an adventure through a dark and scary forest with Snow White and the Seven Dwarfs.
Les Voyages de Pinocchio.
Standing alongside Snow White & the Seven Dwarfs in the courtyard of Sleeping Beauty's Castle the Voyage of Pinocchio is another of those dark and extremely fast and bumpy rides. Scary too, for the very young, but, as in all Disney's stories it all turns out well in the end.
We take a look around Discoveryland with external views of Space Mountain, Star Tours, Orbitron and Les Mysteres du Nautilus.
۞ SEE THE FULL ATTRACTION ۞
Buzz Lightyear's Laser Blast.
Blast your way around outer space, heading for Planet Z, destroying as many battery stealing aliens as you can.
Rev those engines and head off around the massive track that is Autopia. Although there's no chance to overtake it's still a thrilling ride.
Disneyland Paris at night.
A last look around Disneyland at night as we head back to the hotel for a last time.
Disney's Sequoia Lodge and Hunter's Grill
A quick look at Disney's Sequoia Lodge before we dine at the famous Hunter's grill.
۞ SEE THE FULL ATTRACTION ۞
This is NOT one of those Disney presentations you get free through the door, or a copy of a television programme (like some others offered on eBay). All our DVD's are a faithful representation of the wonder and Joy everyone experiences at this Magical place. You get to experience (or relive) the ACTUAL ride or attraction in it's entirety.
If you haven't been to Disneyland Paris then this is the DVD you need to show you what you're missing. Borrow someone's kid and go this year, you are never too old to enjoy the splendour that is Disneyland Paris.
Filmed in 16:9 Widescreen and in region free format and guaranteed to get you down to the travel agent pronto. Maybe you always wondered what it was like, or perhaps you've been there and want a reminder of the great time you had.
A Stereo Soundtrack with faithful sound makes this DVD a 'must have' for all you Disney fans. Although this is a holiday movie it is beautifully edited to give you the true Disney experience.
Want to compare Eurodisney with other Disney parks? Check it out!
The supplied DVD will be matched to your television system i.e. if you order from Canada you will receive an NTSC version. If you order from Ireland you will receive a PAL version.
This chart shows the television system in your country.
If you would like a different television system supplied (e.g. a gift for someone in another country) then please specify when ordering.
All supplied DVD's will, however, play on ANY COMPUTER with a software DVD player.
+++++++++++++++++++++++++++++++++++++++++++++++++++++++++++++++++++++++++++++++