Eurodisney - Disneyland Paris Part 11 - The 25th Anniversary - Region Free DVD/Blu-Ray. NEW
All New Footage - Filmed using Hi Definition equipment- Adapted for viewing on a standard 16:9 Television
Available in DVD and Hi-Definition Blu-Ray.
Fifty Three Minutes of pure Disney Magic on one Region Free DVD. Feel the Magic, Marvel at the attention to detail and wonder at the warmth of it all. Walt Disney once called Disneyland the most wondrous place on Earth, and he wasn't wrong!
This DVD takes you to place after place and attraction after attraction and features full attractions that let you experience the following:
(all pictures taken directly from the DVD).........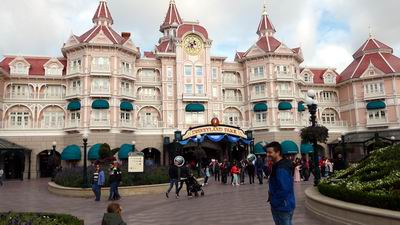 The Magic Kingdom Entrance.
The Magic, The warm atmosphere (even though it's raining) hits you as soon as you see the Disneyland Hotel that marks the gateway to your dreams. As you pass under the Hotel and through the entry gates you see the Main Street courtyard and the passage to the Wonderful Main Street USA.
As it's the very special 25th Anniversary, Main street looks even more impressive than before.
۞ SEE THE WHOLE ATTRACTION ۞
The Plaza Gardens Restaurant.
We couldn't visit The Magic Kingdom without breakfast at the Plaza Gardens Restaurant where, as well as an all you can eat banquet and the splendid 19th Century decor, you get to meet a whole host of Disney Characters while you tuck in..
۞ SEE THE WHOLE ATTRACTION ۞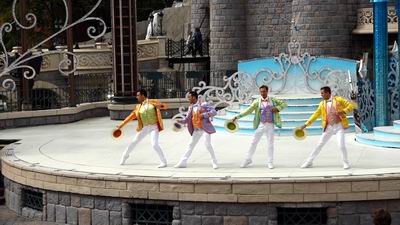 Mickey Presents: Happy Anniversary Disneyland Paris.
The Happy Anniversary Show has a splendid line-up of Disney Characters (some of which had to hot foot it over from the Plaza Gardens Restaurant we were just at) and dancers, with a generous helping of 25th Anniversary goodness.
It's a Small World After All.
It might be a small world but Disney has done some serious renovation of this ride. In Fact it's almost unrecognisable from the original.
There are a few of the originals but there is a load of new encounters and it has a new soundtrack (sorry to get you adults excited, it's still the same tune).
۞ SEE THE WHOLE ATTRACTION ۞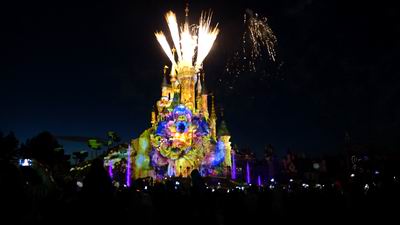 What a truly spectacular show this is. The perfect amalgamation of Lasers, pyrotechnics, fantastic Audio and gushing fountains. How do they time everything to perfection?
After a hectic day we head back to where we started the day. A good nights sleep is in order. Tomorrow is another sweet anticipation.
۞ SEE THE FULL ATTRACTION ۞
This is NOT one of those Disney presentations you get free through the door, or a copy of a television programme (like some others offered on eBay). All our DVD's are a faithful representation of the wonder and Joy everyone experiences at this Magical place. You get to experience (or relive) the ACTUAL ride or attraction in it's entirety.
If you haven't been to Disneyland Paris then this is the DVD you need to show you what you're missing. Borrow someone's kid and go this year, you are never too old to enjoy the splendour that is Disneyland Paris.
Filmed in 16:9 Widescreen and in region free format and guaranteed to get you down to the travel agent pronto. Maybe you always wondered what it was like, or perhaps you've been there and want a reminder of the great time you had.
A Stereo Soundtrack with faithful sound makes this DVD a 'must have' for all you Disney fans. Although this is a holiday movie it is beautifully edited to give you the true Disney experience.
Want to compare Eurodisney with other Disney parks? Check it out!
The supplied DVD will be matched to your television system i.e. if you order from Canada you will receive an NTSC version. If you order from Ireland you will receive a PAL version.
This chart shows the television system in your country.
If you would like a different television system supplied (e.g. a gift for someone in another country) then please specify when ordering.
All supplied DVD's will, however, play on ANY COMPUTER with a software DVD player.
+++++++++++++++++++++++++++++++++++++++++++++++++++++++++++++++++++++++++++++++