Eurodisney - Disneyland Paris Part 12 - Stars on Parade - Region Free DVD/Blu-Ray. NEW
All New Footage - Filmed using Hi Definition equipment- Adapted for viewing on a standard 16:9 Television
Available in DVD and Hi-Definition Blu-Ray.
FortyEight Minutes of pure Disney Magic on one Region Free DVD. Feel the Magic, Marvel at the attention to detail and wonder at the warmth of it all. Walt Disney once called Disneyland the most wondrous place on Earth, and he wasn't wrong!
This DVD takes you to place after place and attraction after attraction and features full attractions that let you experience the following:
(all pictures taken directly from the DVD).........
The Excitement starts as soon as you board the Magical Express at the airport, travelling through various Disney Hotels until you reach yours. It's time to leave the bus, grab your case and head into your hotel to check in. OK, the kids were fine, it was me who couldn't contain my excitement.
۞ SEE THE WHOLE ATTRACTION ۞
We are staying in the Disneyland Hotel this time. This is the hotel that stands proud and majestic at the entrance to the Magic Kingdom. Those of you who have passed under the hotel to enter the park and have wondered what it's like inside then check it out.
۞ SEE THE WHOLE ATTRACTION ۞
The Main Street Philharmonic greets us in Main Street where we join them for a couple of Disney inspired renditions.
Sleeping Beauty's Castle.
The Magnificent Sleeping Beauty's Castle stands at the entrance to Fantasyland. Full of surprises if you know where to look.
It's Christmas Time all year round in the castle shop.
Included is the story of Sleeping Beauty, told in various books, plate glass windows and displays and a spiral staircase that takes us into the dungeon where a dragon lives. The refurbished Dragon no longer breathes smoke but still scares the bejeebers out of kids.
۞ SEE THE WHOLE ATTRACTION ۞
Auberge de Cendrillon (Cinderella's Inn) is our next port of call (being hungry and all) and a better place to dine would be hard to find.
The food is to die for and the company superb. Regular visitors include Cinderella (of course, since it's her joint), Ariel, Belle and others.
۞ SEE THE FULL RESTAURANT ۞
Disney's Stars on Parade.
The 25th Anniversary parade is another masterpiece.
Giant floats parade in front of Sleeping Beauty's Castle and along Main Street accompanied by all your favourite Disney Characters. Oh! and the Dragon breathes fire AND smoke!!!
Le Carrousel de Lancelot.
Le Carrousel de Lancelot (the Carousel of Lancelot) is an old favourite and always worth stopping for a relaxing ride. It's Amazing how many grown up kids hitch a ride.
۞ SEE THE FULL ATTRACTION ۞
Alice's Curious Labyrinth.
What a really annoying attraction this is. You can see where you want to go (SORTIE - THE EXIT) but you can't seem to find it. Wish I'd brought the SatNav .
۞ SEE THE FULL ATTRACTION ۞
You have to make time for the Small World Clock display. Miniature characters come out to play. Pleased to see it's working again and obviously part of the splendid refurbishment of the whole attraction.
۞ SEE THE FULL ATTRACTION ۞
La Chaumiere des Sept Nains.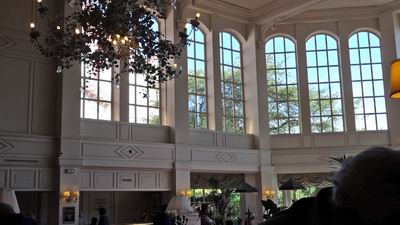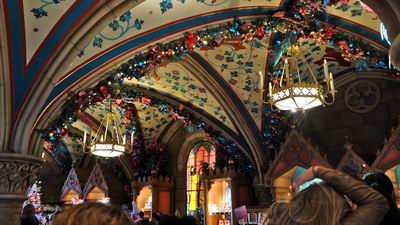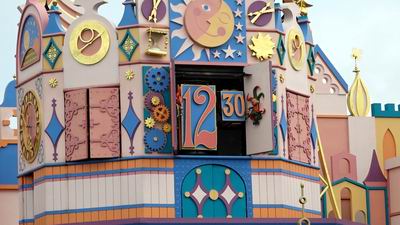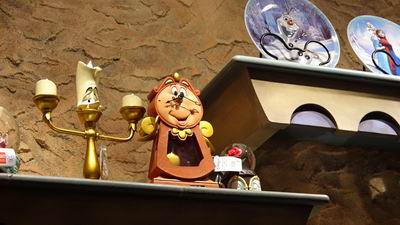 La Chaumiere des Sep Nains (the Chamber of the Seven Dwarfs) is situated in Sleeping Beauty's Castle courtyard. A shop that sells everything for budding princesses.
۞ SEE THE FULL ATTRACTION ۞
Dumbo the Flying Elephant.
Another must do oldie but goldie.
۞ SEE THE FULL ATTRACTION ۞
After a yet another hectic day we head back to our Hotel to get ready for Buffalo Bills Wild West Show with Mickey and friends, but that's another story.
۞ SEE THE FULL ATTRACTION ۞
This is NOT one of those Disney presentations you get free through the door, or a copy of a television programme (like some others offered on eBay). All our DVD's are a faithful representation of the wonder and Joy everyone experiences at this Magical place. You get to experience (or relive) the ACTUAL ride or attraction in it's entirety.
If you haven't been to Disneyland Paris then this is the DVD you need to show you what you're missing. Borrow someone's kid and go this year, you are never too old to enjoy the splendour that is Disneyland Paris.
Filmed in 16:9 Widescreen and in region free format and guaranteed to get you down to the travel agent pronto. Maybe you always wondered what it was like, or perhaps you've been there and want a reminder of the great time you had.
A Stereo Soundtrack with faithful sound makes this DVD a 'must have' for all you Disney fans. Although this is a holiday movie it is beautifully edited to give you the true Disney experience.
Want to compare Eurodisney with other Disney parks? Check it out!
The supplied DVD will be matched to your television system i.e. if you order from Canada you will receive an NTSC version. If you order from Ireland you will receive a PAL version.
This chart shows the television system in your country.
If you would like a different television system supplied (e.g. a gift for someone in another country) then please specify when ordering.
All supplied DVD's will, however, play on ANY COMPUTER with a software DVD player.
+++++++++++++++++++++++++++++++++++++++++++++++++++++++++++++++++++++++++++++++