Eurodisney - Disneyland Paris Part 16 - What a Wonderful Day - Region Free DVD/Blu-Ray. NEW
All New Footage - Filmed using Hi Definition equipment- Adapted for viewing on a standard 16:9 Television
Available in DVD and Hi-Definition Blu-Ray.
One Hour Thirteen Minutes of pure Disney Magic on one Region Free DVD. Feel the Magic, Marvel at the attention to detail and wonder at the warmth of it all. Walt Disney once called Disneyland the most wondrous place on Earth, and he wasn't wrong!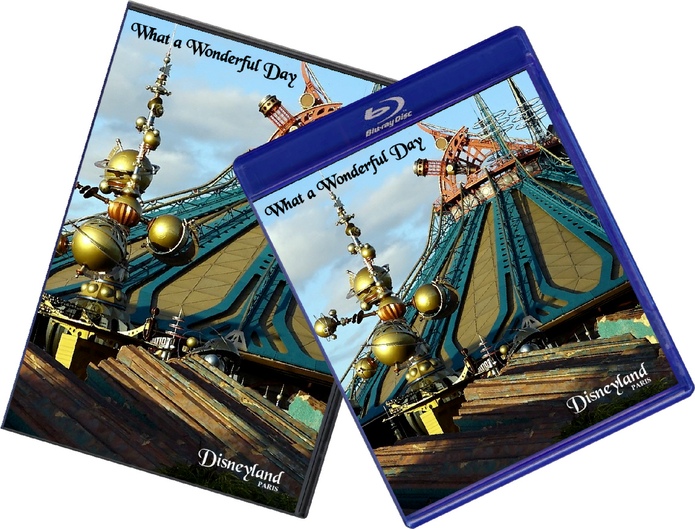 This DVD takes you to place after place and attraction after attraction and features full attractions that let you experience the following:
(all pictures taken directly from the DVD).........
The Disneyland Hotel both inside and out is the first sight visitors get of the Park. You realise straight away the splendour and attention to detail that is Disneyland Paris. Inside the Hotel we meet up with a few Disney Characters en route to breakfast.
۞ SEE PARTS OF THE HOTEL ۞
The Inventions Restaurant.
Time for a bite to eat and what better place than the Inventions Restaurant deep inside the Disneyland Hotel. An all you can eat bonanza surrounded by some of the worlds greatest inventions although Disneyland seems to be missing from the patents.
۞ SEE THE WHOLE RESTAURANT ۞
We Take a walk down Main Street USA. Always so much to see. Of course you can easily miss this magnificent streets grandeur in your hurry to get to the exiting adventures up ahead.
۞ SEE THE WHOLE ATTRACTION ۞
Blanche-Neige et les Sept Nains.
Blanche-Neige et les Sept Nains (Snow White and the Seven Dwarfs to us none French speaking) is a fast moving and dark look at the story of the film.
۞ SEE THE WHOLE ATTRACTION ۞
The Mad Hatter's Tea Cups.
The Mad Hatters Tea Cups gets you all in a spin, and boy can you spin at some great rate of knots. The Make things worse there is a wheel in the centre of your 'Cup' which you can rotate to introduce some extra spin.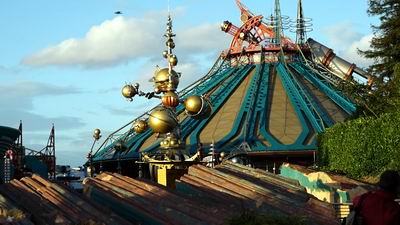 A Quick look around discoveryland, ending up in the Videopolis Quick Service Restaurant..
۞ SEE PARTS OF DISCOVERYLAND ۞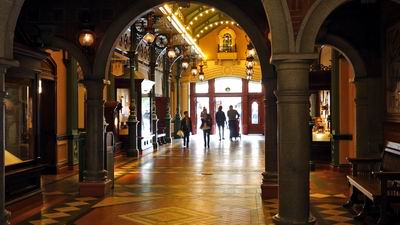 If you want to leave the park in a hurry, avoiding the crowds, then the Discovery Arcade is for you. Unfortunately if you like to shop then it's not such a good idea.
۞ SEE THE FULL ATTRACTION ۞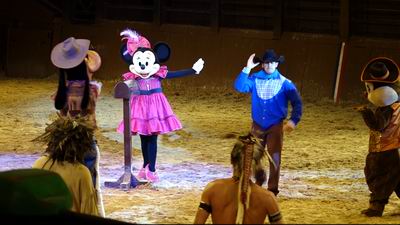 Buffalo Bill's Wild West Show with Mickey and Friends
Now we come to the main event. Buffalo Bill's Wild West Show with Mickey and Friends is a rootin' tootin', singin' and dancin' extravaganza. Oh! and you get fed too, Yee Haa.
This is NOT one of those Disney presentations you get free through the door, or a copy of a television programme (like some others offered on eBay). All our DVD's are a faithful representation of the wonder and Joy everyone experiences at this Magical place. You get to experience (or relive) the ACTUAL ride or attraction in it's entirety.
If you haven't been to Disneyland Paris then this is the DVD you need to show you what you're missing. Borrow someone's kid and go this year, you are never too old to enjoy the splendour that is Disneyland Paris.
Filmed in 16:9 Widescreen and in region free format and guaranteed to get you down to the travel agent pronto. Maybe you always wondered what it was like, or perhaps you've been there and want a reminder of the great time you had.
A Stereo Soundtrack with faithful sound makes this DVD a 'must have' for all you Disney fans. Although this is a holiday movie it is beautifully edited to give you the true Disney experience.
Want to compare Eurodisney with other Disney parks? Check it out!
The supplied DVD will be matched to your television system i.e. if you order from Canada you will receive an NTSC version. If you order from Ireland you will receive a PAL version.
This chart shows the television system in your country.
If you would like a different television system supplied (e.g. a gift for someone in another country) then please specify when ordering.
All supplied DVD's will, however, play on ANY COMPUTER with a software DVD player.
+++++++++++++++++++++++++++++++++++++++++++++++++++++++++++++++++++++++++++++++