Eurodisney - Disneyland Resort Paris Part 3 - The 15th Anniversary- Region Free DVD.
All New Footage - Filmed using Hi Definition equipment- Adapted for viewing on a standard 16:9 Television
Available in PAL, NTSC and Hi-Definition Blu-Ray
One Hour Seventeen Minutes of pure Disney Magic on one Region Free DVD. Feel the Magic, Marvel at the attention to detail and wonder at the warmth of it all. Walt Disney once called Disneyland the most wondrous place on Earth, and he wasn't wrong!
This DVD takes you to place after place and attraction after attraction and features full attractions that let you experience the following:
(all pictures taken directly from the DVD).........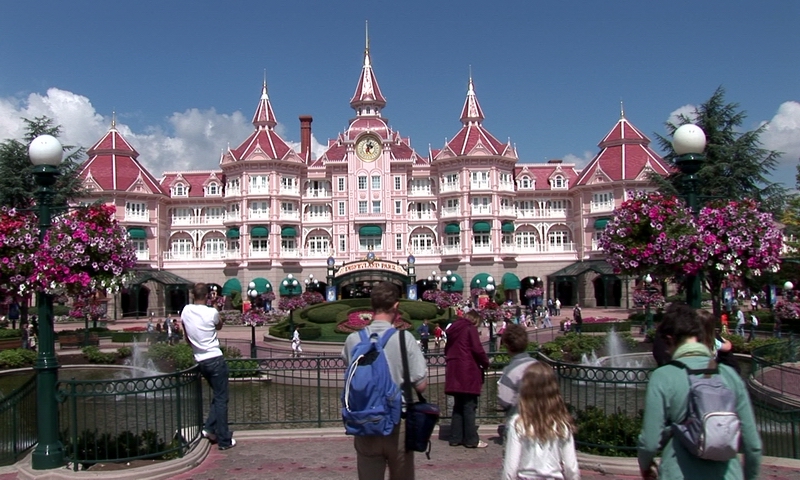 The Disneyland Paris Park Entrance.
The splendour that is Disneyland Paris hits you in the eye even before you get into the park. The Majestic Disneyland Hotel that stands at the entrance to the park, the fountains, the railway station that sits above the entrance to Main Street it just goes on and on...........
۞ SEE THE WHOLE ATTRACTION ۞
A fresh look at Frontierland which is a look back in time at a typical gold rush town, full of spectacular Wild West scenery complete with trading stores, a saloon and a vast lake with paddlewheel riverboats and keel boats. You can almost smell the gunpowder.........
۞ SEE THE WHOLE ATTRACTION ۞
At the heart of the town lies the Thunder Mesa Mining Company who run the rickety mine trains that rattle around Thunder Mountain. Climb aboard for the most exciting attraction in Frontierland, where you take a ride in one of these runaway mine trains. Yes, your intrepid photographer risked life and limb to get you the scary shots. He won't be doing it again!
NOTE - THIS FOOTAGE CONTAINS COMPLETELY DARK SCENES, THIS IS NOT A FAULT, THE RIDE IS LIKE THIS.
A quick look at the recently departed and what separated them from their bodies.
۞ SEE THE WHOLE ATTRACTION ۞
Tomorrow available today. Full of futuristic attractions and space age technology including..........
۞ SEE THE WHOLE ATTRACTION ۞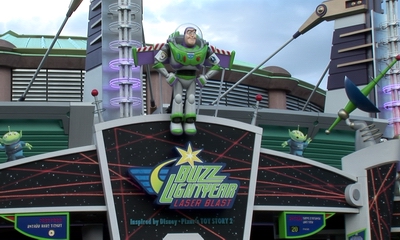 Buzz Lightyears Laser Blast.
Your Mission, space ranger, is to seek out Zurg's evil robots, find his secret weapon and blast them. You'll rendezvous at planet Z.......
An easily missed attraction. Climb aboard the submarine featured in the movie 20,000 leagues under the sea and get ready to dive....
۞ SEE THE WHOLE ATTRACTION ۞
Buzz Lightyear's Pizza Planet.
A must visit attraction (even if you're not hungry). Modelled on Toy Story's Pizza Planet.
۞ SEE THE WHOLE ATTRACTION ۞
Based on the star wars films. Climb aboard your transport to Endor, but it all goes wrong from the start. Join the Rebels for an attack on the Empire's Death Star.
Step into Hollywood with all the glitz that goes with it.
۞ SEE THE WHOLE ATTRACTION ۞
High School Musical Roadshow
Join the musical extravaganza, sing along and dance. Not to be missed for fans of the Disney Channel original Musical offering.
A Rock and Roll town. Attractions, parades, vintage American Cars and restaurants galore.
۞ SEE THE WHOLE ATTRACTION ۞
Cowboys and Indians come out to play.
Did that Elephant Move? You bet it did. I wondered where that roll went?
۞ SEE THE WHOLE ATTRACTION ۞
Disneyland lights up the night like nowhere else. We start with a look down main street, lit up especially brightly to reflect 15 happy years.
۞ SEE THE WHOLE ATTRACTION ۞
The Fantillusion Parade is what nights are made for. A spectacular parade that lights up the darkness in a way that only Disney Imagineering can provide. Brilliantly illuminated floats with all your favourite characters atop a million pulsating coloured lights. Nobody falls asleep during this parade, despite the late hour.
The 15th Anniversary Celebration.
Join Mickey and the gang to Celebrate 15 happy years at Disneyland Paris. A song and Dance spectacular not to be missed.
Wishes is the end of the day fireworks display which blends perfectly music, a laser light show and a spectacular fireworks display. Worth going to Disneyland just to see this. Switch off the lights, grab the popcorn, sit back and enjoy the grand finale.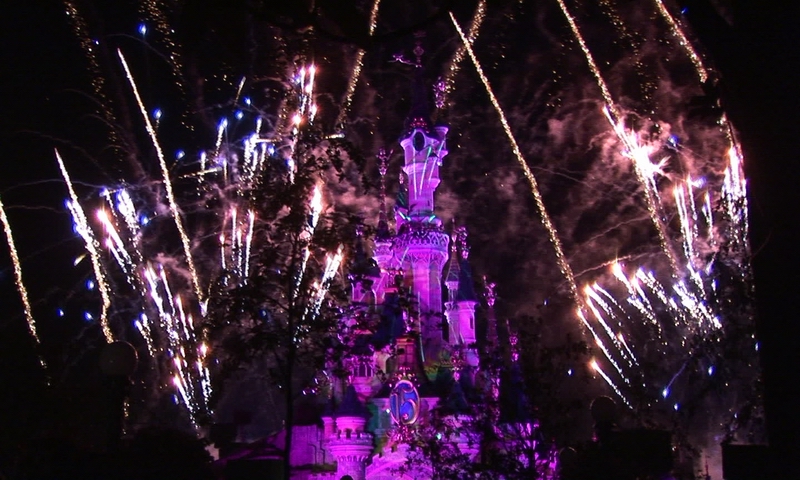 This is NOT one of those Disney presentations you get free through the door, or a copy of a television programme (like some others offered on eBay). All our DVD's are a faithful representation of the wonder and Joy everyone experiences at this Magical place. You get to experience (or relive) the ACTUAL ride or attraction in it's entirety.
If you haven't been to Disneyland Paris then this is the DVD you need to show you what you're missing. Borrow someone's kid and go this year, you are never too old to enjoy the splendour that is Disneyland Paris.
Filmed in 16:9 Widescreen and in region free format and guaranteed to get you down to the travel agent pronto. Maybe you always wondered what it was like, or perhaps you've been there and want a reminder of the great time you had.
A Stereo Soundtrack with faithful sound makes this DVD a 'must have' for all you Disney fans. Although this is a holiday movie it is beautifully edited to give you the true Disney experience.
Want to compare Eurodisney with other Disney parks? Check it out!
The supplied DVD will be matched to your television system i.e. if you order from Canada you will receive an NTSC version. If you order from Ireland you will receive a PAL version.
This chart shows the television system in your country.
If you would like a different television system supplied (e.g. a gift for someone in another country) then please specify when ordering.
All supplied DVD's will, however, play on ANY COMPUTER with a software DVD player.
+++++++++++++++++++++++++++++++++++++++++++++++++++++++++++++++++++++++++++++++