Eurodisney - Disneyland Paris Part 4 - Parades & Shows - Region Free DVD. (NEW).
All New Footage - Filmed using Hi Definition equipment- Adapted for viewing on a standard 16:9 Television
Available in PAL, NTSC and Hi-Definition Blu-Ray
One Hour Ten Minutes of pure Disney Magic on one Region Free DVD. Feel the Magic, Marvel at the attention to detail and wonder at the warmth of it all. Walt Disney once called Disneyland the most wondrous place on Earth, and he wasn't wrong!
This DVD takes a look back at the shows and parades from 2000 to 2007.
It includes footage filmed in standard 4:3 aspect ratio as well as footage filmed in 16:9 widescreen. It is formatted for 16:9 viewing so the 4:3 footage will have a black band at each side of the screen.
NOTE: There is NO duplicated footage in any of the Disneyland DVD's. Each DVD is unique.
The DVD contains (pictures taken from DVD).........
Before we step back in time we take a look at today's Fantasyland. Alive with it's own history including Princesses and Castles, Square trees and enchanted courtyards, fountains and Coaches and a whole lot more.
۞ SEE THE WHOLE ATTRACTION ۞
16:9 filmed in 2007 (4mins 25seconds)
Mickey's Toon Time Parade.
Zip-a-dee-doo-dah people, tap them toes and join Mickey and the gang on a rainy day in 2000.
4:3 filmed in 2000 (3mins 18seconds)
The Wonderful World of Disney Parade.
Princesses galore in all their finery. This was the year that the Cinderella and Sleeping Beauty floats was added.
4:3 filmed in 2001 (7mins 43seconds)
The story of Mulan told in Dance and acrobatics. Filmed at the Videopolis in Discoveryland.
۞ SEE HIGHLIGHTS OF THE SHOW ۞
4:3 filmed in 2001 (8mins 21seconds)
Buffalo Bill's Wild West Show.
Welcome to the ultimate diner show. If you enjoy an American style show with lots of action and cowboy style food, then you must see Buffalo Bill's Wild West Show. The show has been running twice a day since the opening of the park.
۞ SEE HIGHLIGHTS OF THE SHOW ۞
4:3 filmed in 2001 (2mins 39seconds)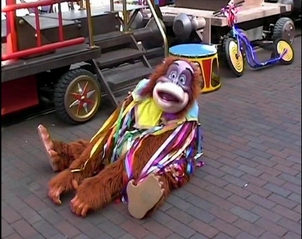 Disney's Toon Circus Parade.
Disney's Toon Circus only ran for one year. Mickey and the other Disney characters don some Circus costumes for a romp in Main Street. Tricks and treats galore. A genuine Circus Carnival with clowns, acrobats and a very tall guy!
۞ SEE MOST OF THE PARADE ۞
4:3 filmed in 2001 (4mins 55seconds)
The Small World Clock Display.
Every 15 minutes the small world clock clanks and grinds out it's own mechanical display with typical small world characters spinning and moving around the giant clock.
۞ SEE THE WHOLE ATTRACTION ۞
4:3 filmed in 2001 (2mins 00seconds)
Featured in the Chaparral Theater situated in Frontierland. Join Tarzan and Jane for a song and dance floor show.
۞ SEE HIGHLIGHTS OF THE SHOW ۞
4:3 filmed in 2001 (2mins 36seconds)
The horse drawn coach at the head of the parade only appears in Princess week. All your favourite Princesses and some supporting characters like the seven dwarfs parade down main street in a magnificent procession of colour and sound.
16:9 filmed in 2003 (5mins 55seconds)
Adventureland - Sights and Sounds.
We take a break from all the hustle and bustle of the parade and take a gentle look around Adventureland. African drums fill the air amongst the backdrop of adventure island and Captain Hooks ship. As night falls we catch a glimpse of Captain Jack Sparrow (well it might have been?).
۞ SEE THE WHOLE ATTRACTION ۞
16:9 filmed in 2007 (3mins 19seconds)
Once Upon a Dream Parade.
New for the Disneyland Paris 15th Anniversary. As the years pass the parades get classier, the characters have more vigour and the sights and sound just get better. Join us for the Once Upon a Dream Parade filmed in 2007. It seems Disney have crammed all the characters into one big parade, to great effect. Not to be missed......
16:9 filmed in 2007 (16mins 11seconds)
Climb aboard the Main Street Character Train and meet all you favourite Disney characters.
16:9 filmed in 2007 (1min 55seconds)
Another snippet that runs down main street and keeps the kids amused.
16:9 filmed in 2007 (0mins 45seconds)
We end our trip down memory lane with a trip down the most famous lane of all - Main Street.
۞ SEE THE WHOLE ATTRACTION ۞
16:9 filmed in 2007 (3ins 04seconds)
Watch out for the Toon Bus (2001) and Mickey and his buddies on the staircase in the Disneyland Hotel (2001).
۞ SEE SECTIONS OF VARIOUS ATTRACTIONS ۞
This is NOT one of those Disney presentations you get free through the door, or a copy of a television programme (like some others offered on eBay). All our DVD's are a faithful representation of the wonder and Joy everyone experiences at this Magical place. You get to experience (or relive) the ACTUAL ride or attraction in it's entirety.
If you haven't been to Disneyland Paris then this is the DVD you need to show you what you're missing. Borrow someone's kid and go this year, you are never too old to enjoy the splendour that is Disneyland Paris.
Filmed in 16:9 Widescreen and in region free format and guaranteed to get you down to the travel agent pronto. Maybe you always wondered what it was like, or perhaps you've been there and want a reminder of the great time you had.
A Stereo Soundtrack with faithful sound makes this DVD a 'must have' for all you Disney fans. Although this is a holiday movie it is beautifully edited to give you the true Disney experience.
Want to compare Eurodisney with other Disney parks? Check it out!
The supplied DVD will be matched to your television system i.e. if you order from Canada you will receive an NTSC version. If you order from Ireland you will receive a PAL version.
This chart shows the television system in your country.
If you would like a different television system supplied (e.g. a gift for someone in another country) then please specify when ordering.
All supplied DVD's will, however, play on ANY COMPUTER with a software DVD player.
+++++++++++++++++++++++++++++++++++++++++++++++++++++++++++++++++++++++++++++++