Eurodisney - Disneyland Resort Paris Part 5 - A Disneyland Christmas - Region Free DVD. NEW.
All New Footage - Filmed using Hi Definition equipment- Adapted for viewing on a standard 16:9 Television
Available in PAL, NTSC and Hi-Definition Blu-Ray
Heineken don't do theme parks at Christmas but if they did, it would probably be the SECOND best Theme park in the world, AFTER Disneyland Paris.
One Hour Fifteen Minutes of pure Disney Christmas Magic on one Region Free DVD. Feel the cold chill of a December day but marvel at the magical snow and warmth all around you. Walt Disney once called Disneyland the most wondrous place on Earth, and he wasn't wrong!
This DVD takes you to place after place and attraction after attraction and features full shows that let you experience the following:
(all pictures taken directly from the DVD).........
Main Street like you've never seen it before. A giant Christmas tree greets you on arrival in main street USA. Festive decorations abound and despite the cold winter nip you instantly feel a warmth that only Disney could imaginate. Baubles, bangles, beads and real snow (we couldn't tell the difference) add to the Christmas magic.
۞ SEE THE WHOLE ATTRACTION ۞
Take a look around the castle and courtyard and then visit Belle's village to complete the Christmas theme. Check out the giant gifts in the old windmill, with it's own Christmas tree and snow covered roofs.
۞ SEE THE WHOLE ATTRACTION ۞
The Christmas Once Upon a Dream Parade.
The 15th Anniversary Once Upon a Dream Parade with a Christmas Theme gets you in the Christmas mood like nothing else. Not just the characters from the summer parade but including of a whole army of wooden soldiers followed by the REAL Santa Claus, pulled by, yes, you guessed it, REAL reindeer.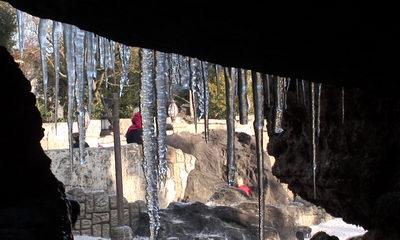 A look around the park to see the effect of the cold snap. It all goes to make Disneyland even more Christmassy.
۞ SEE THE WHOLE ATTRACTION ۞
A Christmas Disney Village.
Disney Village like you've never seen before. Christmas all around complete with an aerial view on board the Disney Lake Balloon.
۞ SEE THE WHOLE ATTRACTION ۞
Mickey's Winter Wonderland
Sit back and enjoy the scene.... a small chalet, lost in the mountain. But who's living there? The whole Disney gang it appears. Great song and dance routines with Mickey, Donald and all your favourite characters.
A Look along the main street arcade at the decorations, the tribute to the New York Statue of Liberty and a breathtaking look at the Christmas window displays and shops, after which we step out into main street and the park entrance to take in even more Christmas spirit.
۞ SEE THE WHOLE ATTRACTION ۞
The Christmas Disney Character Express.
The Disney Christmas Character Express rolls down Main Street with all you favourite characters on board. Catchy tune too!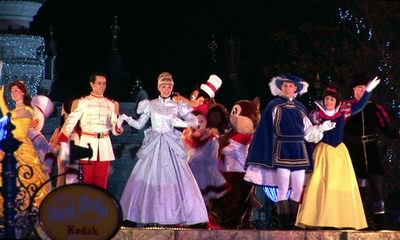 The Enchanted Christmas Candleabration.
Only at Christmas, and this year only, we enjoy the Christmas Enchanted Candleabration to celebrate the 15th Anniversary of Disneyland Paris and Christmas at the same time. Be stunned by the Princesses ballet and join Mickey and the gang as the castle lights up the bleak night sky in an explosion of dancing lights and sound.
Nothing completes the day like a Disney Christmas night. Full of colour and special festive illuminations that are not to be missed.
۞ SEE THE WHOLE ATTRACTION ۞
This is NOT one of those Disney presentations you get free through the door, or a copy of a television programme (like some others offered on eBay). All our DVD's are a faithful representation of the wonder and Joy everyone experiences at this Magical place. You get to experience (or relive) the ACTUAL ride or attraction in it's entirety.
If you haven't been to Disneyland Paris at Christmas then this is the DVD you need to show you what you're missing. Borrow someone's kid and go this year, you are never too old to enjoy the splendour that is Disneyland Paris.
Filmed in 16:9 Widescreen and in region free format and guaranteed to get you down to the travel agent pronto. Maybe you always wondered what it was like at Christmas, or perhaps you've been there and want a reminder of the great time you had.
A Stereo Soundtrack with faithful sound makes this DVD a 'must have' for all you Disney fans. Although this is a holiday movie it is beautifully edited to give you the true Disney experience.
Want to compare Eurodisney with other Disney parks? Check it out!
The supplied DVD will be matched to your television system i.e. if you order from Canada you will receive an NTSC version. If you order from Ireland you will receive a PAL version.
This chart shows the television system in your country.
If you would like a different television system supplied (e.g. a gift for someone in another country) then please specify when ordering.
All supplied DVD's will, however, play on ANY COMPUTER with a software DVD player.
+++++++++++++++++++++++++++++++++++++++++++++++++++++++++++++++++++++++++++++++