Eurodisney - Disneyland Resort Paris Part 8 - The Year to be here - Region Free DVD. (NEW).
All New Footage - Filmed using Hi Definition equipment- Adapted for viewing on a standard 16:9 Television
Available in PAL, NTSC and Hi-Definition Blu-Ray
Fifty Five Minutes of pure Disney Magic on one Region Free DVD. Feel the Magic, Marvel at the attention to detail and wonder at the warmth of it all. Walt Disney once called Disneyland the most wondrous place on Earth, and he wasn't wrong!
This DVD takes you to place after place and attraction after attraction and features full attractions that let you experience the following:
(all pictures taken directly from the DVD).........
Lake Disney & Disney Village.
We start our day at Lake Disney, fishing...... then move through Disney Village ending up in Main Street USA. There's always something new to see and do, and that's BEFORE you even get into the Park
۞ SEE THE WHOLE ATTRACTION ۞
A detailed look at the sights of Frontierland, from the Phantom Manor Graveyard to the Pocahontas Indian Village.
Tap them feet, step to the right, clap them hands. We take a look at Legends of the Wild West too.
۞ SEE THE WHOLE ATTRACTION ۞
Phantom Manor. The BIG CHILL.
Climb aboard you doom buggy for a deathly ride to oblivion. The survivors can check out Boot Hill Graveyard to see the final resting place of those poor unfortunate souls that didn't make it.
It's nice to just take it easy now and then, especially amongst the hustle and bustle of a Wild West Town and there's nowhere more tranquil than a gentle sail around Big Thunder Mountain.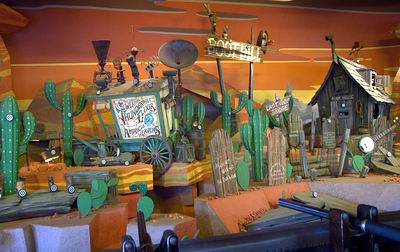 Rustler Roundup Shootin' Gallery. The BIG KILL.
OK, so there's nobody to kill but there is a feast of targets and it's fun to see what happens when you hit a target.
۞ SEE THE WHOLE ATTRACTION ۞
The Silver Spur Steakhouse. The BIG GRILL.
We pop into the Silver Spur Steakhouse for Lunch. This Gentleman's club of the Wild West has fine dining and even finer surroundings.
۞ SEE THE WHOLE ATTRACTION ۞
Big Thunder Mountain. The BIG THRILL.
It's Hats and Glasses time again. Hang on for all you're worth......
Le Passage Enchante d'Aladdin.
Journey into Agrabah en route to Adventureland.
۞ SEE THE WHOLE ATTRACTION ۞
There so much to see and do, from gingerly walking over a rope bridge to exploring Ben Gunn's Cave.
From Captain Hook's Ship to Davy Jones's Locker. It's all there including an external view of Indiana Jones and the Temple of Peril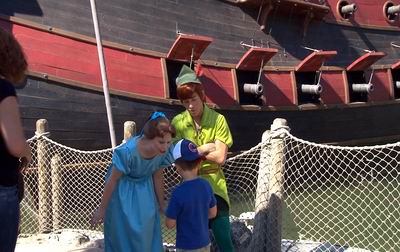 Meet Peter and Wendy up close..
۞ SEE THE WHOLE ATTRACTION ۞
Watch out! there's a Pirate about. Explore Skull Rock and the surrounding caves and waterfalls.
Pirates of the Caribbean.
The ride that inspired a movie franchise. No Jack sparrow like the Florida offering but still a pleasure to experience from beginning to end. Full of atmosphere and surprises throughout.
The Disney Village Motor Show.
Old, although they all look brand new, cars on show from stretched limos to odd looking jalopies.
۞ SEE THE FULL ATTRACTION ۞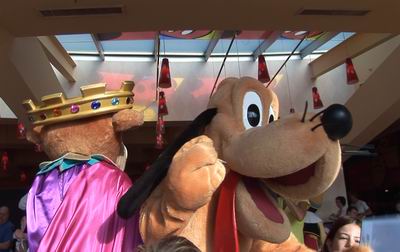 One of the best places to meet and greet Disney Characters has to be Chef Mickey's restaurant in Disney Village.
۞ SEE THE FULL ATTRACTION ۞
This is NOT one of those Disney presentations you get free through the door, or a copy of a television programme (like some others offered on eBay). All our DVD's are a faithful representation of the wonder and Joy everyone experiences at this Magical place. You get to experience (or relive) the ACTUAL ride or attraction in it's entirety.
If you haven't been to Disneyland Paris then this is the DVD you need to show you what you're missing. Borrow someone's kid and go this year, you are never too old to enjoy the splendour that is Disneyland Paris.
Filmed in 16:9 Widescreen and in region free format and guaranteed to get you down to the travel agent pronto. Maybe you always wondered what it was like, or perhaps you've been there and want a reminder of the great time you had.
A Stereo Soundtrack with faithful sound makes this DVD a 'must have' for all you Disney fans. Although this is a holiday movie it is beautifully edited to give you the true Disney experience.
Want to compare Eurodisney with other Disney parks? Check it out!
The supplied DVD will be matched to your television system i.e. if you order from Canada you will receive an NTSC version. If you order from Ireland you will receive a PAL version.
This chart shows the television system in your country.
If you would like a different television system supplied (e.g. a gift for someone in another country) then please specify when ordering.
All supplied DVD's will, however, play on ANY COMPUTER with a software DVD player.
+++++++++++++++++++++++++++++++++++++++++++++++++++++++++++++++++++++++++++++++