Eurodisney - Disneyland Resort Paris Part 9 - Hollywood or Bust - Region Free DVD.
All New Footage - Filmed using Hi Definition equipment- Adapted for viewing on a standard 16:9 Television
Available in PAL, NTSC and Hi-Definition Blu-Ray
Sixty Nine Minutes of pure Disney Magic on one Region Free DVD. Feel the Magic, Marvel at the attention to detail and wonder at the warmth of it all. Walt Disney once called Disneyland the most wondrous place on Earth, and he wasn't wrong!
This DVD takes you to place after place and attraction after attraction and features full attractions that let you experience the following:
(all pictures taken directly from the DVD).........
Park Entrance & Studio 1.
Step into Hollywood, amid the glitz and glamour of a bygone age, from the Fantasia fountains to the Statue of the man himself (Mickey Mouse of course, accompanied by his creator). Actors are warming up in Studio 1 and you're not even in the park yet.
۞ SEE THE WHOLE ATTRACTION ۞
Step out of Studio 1 and you're in the back lot. We take a look around at the amazing buildings and scenery. You can almost smell the greasepaint. Meet a few of the Characters that Disney introduced over the years.
۞ SEE THE WHOLE ATTRACTION ۞
The Twilight Zone Tower of Terror.
Hang on to your hats and glasses on this ride. It starts off Creepy but drops off at the end.
Disney's Stars 'n' Cars Parade.
Once we get our stomach out of our mouths we can relax and enjoy the Disney's Stars 'n' Cars Parade. All the Characters you would expect are there.... and take a look at those fantastic motors. Not to be missed.
Moteurs... Action! Stunt Show Spectacular featuring Lightning McQueen.
Ah! A sit down at last..... The Moteurs... Action! Stunt Show Spectacular gives you an insight into how movies are made. The format has changed since the last time we visited and this time we have the welcome interruption of Lightning McQueen from the Disney Pixar Cars Franchise. Here in real life and chasing some nasty secret spy car. Even if you don't need a sit down, you have to give this attraction twenty eight minutes of your time. A must for fans of fast cars and hair raising chases.
After all that excitement, and now that your stomach has finally settled you're probably a bit hungry. Time to give the Restaurant des Stars a visit. Of course the service is abysmal, since all the chefs are outside taking a music break. We take a look inside anyway, hoping they left something on the stove.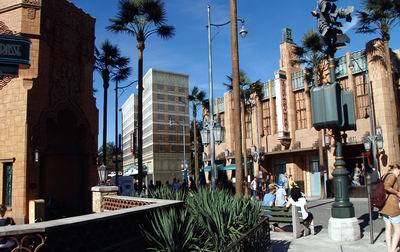 Hollywood Boulevard, alive and throbbing, as you would expect. Meet some great characters on your travels and marvel at the atmosphere.
۞ SEE THE FULL ATTRACTION ۞
The Studio Tram Tour: Behind the Magic.
The Studio Tram Tour: Behind the Magic is another ride that has changed over the years. Still, well worth the bus ride to Catastrophe Canyon and London like you've never seen it before (which were the main parts of the original ride). If you haven't seen it before you're in for a real treat, Check it out.
۞ SEE THE FULL ATTRACTION ۞
To Infinity... and Beyond, well, to the Toy Story Playland where new rides are to be had. External views of all the rides and a look around the playland.
۞ SEE THE WHOLE ATTRACTION ۞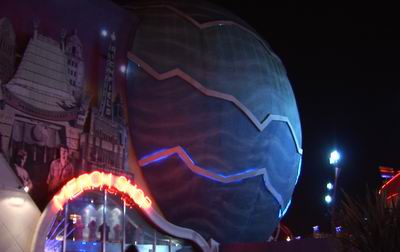 As night falls we take a look at Planet Hollywood and Lake Disney.
۞ SEE THE FULL ATTRACTION ۞
This is NOT one of those Disney presentations you get free through the door, or a copy of a television programme (like some others offered on eBay). All our DVD's are a faithful representation of the wonder and Joy everyone experiences at this Magical place. You get to experience (or relive) the ACTUAL ride or attraction in it's entirety.
If you haven't been to Disneyland Paris then this is the DVD you need to show you what you're missing. Borrow someone's kid and go this year, you are never too old to enjoy the splendour that is Disneyland Paris.
Filmed in 16:9 Widescreen and in region free format and guaranteed to get you down to the travel agent pronto. Maybe you always wondered what it was like, or perhaps you've been there and want a reminder of the great time you had.
A Stereo Soundtrack with faithful sound makes this DVD a 'must have' for all you Disney fans. Although this is a holiday movie it is beautifully edited to give you the true Disney experience.
Want to compare Eurodisney with other Disney parks? Check it out!
The supplied DVD will be matched to your television system i.e. if you order from Canada you will receive an NTSC version. If you order from Ireland you will receive a PAL version.
This chart shows the television system in your country.
If you would like a different television system supplied (e.g. a gift for someone in another country) then please specify when ordering.
All supplied DVD's will, however, play on ANY COMPUTER with a software DVD player.
+++++++++++++++++++++++++++++++++++++++++++++++++++++++++++++++++++++++++++++++