Eurodisney - Disneyland Paris The Complete Collection - Region Free Blu-Ray. NEW.
NOTE: Parts 1 and 2 were not filmed using a Hi-Definition Camera so are not available in Blu-Ray. These will be supplied in DVD format. Parts 3 to 10 will be supplied in Hi-Definition Blu-Ray.
The Complete collection on TWO Region Free DVD's and EIGHT Region Free Blu-Ray's. Feel the Magic, Marvel at the attention to detail and wonder at the warmth of it all. Walt Disney once called Disneyland the most wondrous place on Earth, and he wasn't wrong!
These DVD's/Blu-Rays take you to place after place and attraction after attraction and features full rides that let you experience the following:
PLEASE NOTE: THESE ARE THE SAME DVD's / Blu-Ray's THAT ARE AVAILABLE SEPARATELY.
SUPPLIED IN A 10 DISC SINGLE CASE: YOU SAVE £15 WITH THIS SET.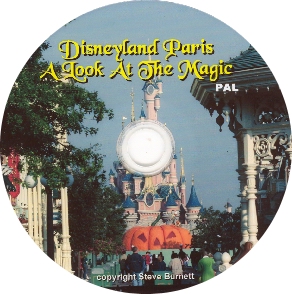 Disc 1: A Look at the Magic.
Main Street USA: Frontierland: Riverboat: Haunted Mansion: Thunder Mountain: Main Street Parade: Adventureland: Pirates of the Caribbean: Sea Life: MGM Studios: Stunt Show Spectacular: Studio Tram Tour: Cinema Parade: Sleeping Beauty's Castle: Small World.
The Disneyland Hotel: Disneyland Railroad: Fort Comstock: Casey Junior: Alice's Curious Labyrinth: Pinocchio: Dragon: Snow White: Swiss Family Robinson Tree House: Dumbo: Storybook: Star Tours: Magic Carpets: The End:
Disc 3: The 15th Anniversary.
Park Entrance: Frontierland: Thunder Mountain: Boot Hill: Discoveryland: Buzz Lightyear's Blaster: Nautius: Pizza Planet: Star Tours: Disney Studios: High School Musical Roadshow: Disney Village: Buffalo Bill Parade: Rainforest Cafe: Disneyland After Dark: Fantillusion Parade: 15th Anniversary: Wishes.
Disc 4: Parades and Shows.
Frontierland: Mickey's Toon Parade: The Wonderful World of Disney Parade: The Legend of Mulan: Buffalo Bill's Wild West Show: Disney's Toon Circus Parade: The Small World Clock Display: The Legend of Tarzan: The Princess Parade: Adventureland: Once Upon a Dream Parade: Character Train: Following the letters: Toon Circus Bus.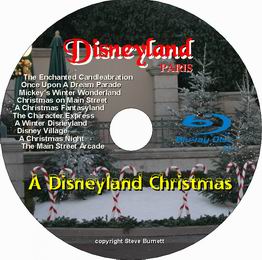 Disc 5: A Disneyland Christmas.
The Enchanted Candleabration: Mickey's Winter Wonderland: Once Upon A Dream Parade: The Main Street Arcade: The Character Express: A Christmas Fantasyland: The Christmas Arcade: A Winter Wonderland: A Christmas Night: Disney Village.
Disc 6: The Final Frontierland.
The MGM Studios at Christmas: Armageddon: The Christmas Cinema Parade: Cars: The Legend of the Lion King: Casey's Corner: A Christmas Adventureland: A Christmas Small World: The Mad Hatter's Tea Cups: Frontierland: The Newport Bay Hotel: The Hotel New York.
Disc 7: The 20th Anniversary.
20th Anniversary Celebration Train: 20th Anniversary Main Street: Plaza Gardens Restaurant: Statue of Liberty Tableau: Disney Magic on Parade: The Main Street Arcade: Sleeping Beauty Castle: La Taniere du Dragon: Disney Dreams.
Disc 8: The Year to be Here.
Adventurland: Indiana Jones and the Temple of Terror: Le Passage Enchante d'Aladdin: Pirates of the Caribbean: Adventure Island: Pirates Beach: Frontierland: Rustler Roundup Shootin' Gallery: Thunder Messa Riverboat: Legends of the Wild West: Silver Spur Steakhouse: Big Thunder Mountain: Phantom Manor: Disney Village: Chef Mickey's: Motor Show.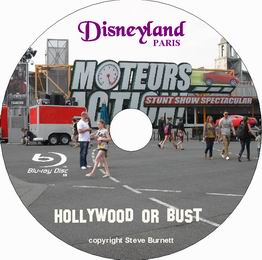 Disc 9: Hollywood or Bust.
Moteurs...Action! Stunt Show Spectacular featuring Lightning McQueen: Studio Tram Tour: Behind the Magic: The Twilight Zone Tower of Terror: Disney's Stars and Cars Parade: Restaurant des Stars: Planet Hollywood: Toy Story Playland.
Disc 10: Fastpass to the Fun.
Fantasyland: Casey Junior - Le petit Train du Cirque: Walt's - An American Restaurant: Blanche-Neige et les Sept Nains: Le Pays des Contes de Fees: Les Voyages de Pinocchio: Alice's Curious Labyrinth: Mad Hatters Tea Cups: Toad Hall restaurant: Peter Pan's Flight: It's a Small World: Discoveryland: Buzz Lightyears Laser Blaster: Autopia: Sequoia Lodge: Hunter's grill: Newport Bay Hotel.
۞ CHECK OUT THE INDIVIDUAL LISTINGS FOR FULL DETAILS ۞
This is NOT one of those Disney presentations you get free through the door, or a copy of a television programme. All our DVD's & Blu-Ray's are a faithful representation of the wonder and Joy everyone experiences at this Magical place. You get to experience (or relive) the ACTUAL ride or attraction in it's entirety.
If you haven't been to Disneyland Paris then these are the discs you need to show you what you're missing. Borrow someone's kid and go this year, you are never too old to enjoy the splendour that is Disneyland Paris.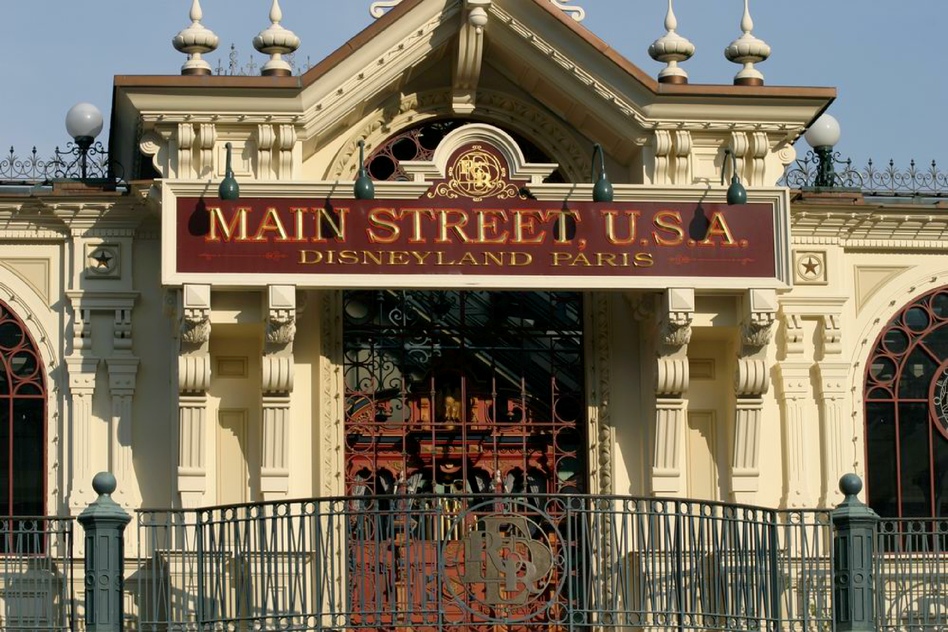 Filmed in 16:9 Widescreen and in region free format and guaranteed to get you down to the travel agent pronto. Maybe you always wondered what it was like, or perhaps you've been there and want a reminder of the great time you had.
A Stereo Soundtrack with faithful sound makes these DVD's & Blu-Ray's a 'must have' for all you Disney fans. Although these are holiday movies they are beautifully edited to give you the true Disney experience.
Want to compare Eurodisney with other Disney parks? Check it out!
The supplied discs will be matched to your television system i.e. if you order from Canada you will receive an NTSC version. If you order from Ireland you will receive a PAL version.
This chart shows the television system in your country.
If you would like a different television system supplied (e.g. a gift for someone in another country) then please specify when ordering.
All supplied discs will, however, play on ANY COMPUTER with a software DVD player.
+++++++++++++++++++++++++++++++++++++++++++++++++++++++++++++++++++++++++++++++