SeaWorld Florida Part 1- Christmas at SeaWorld DVD/Blu-Ray - NEW.
All New Footage - Filmed using Hi Definition equipment- Adapted for viewing on a standard 16:9 Television
Available in PAL, NTSC and Hi-Definition Blu-Ray
Seventy Two Minutes of pure SeaWorld Florida Christmas Magic on one Region Free DVD.
Who said SeaWorld was just water and fish? It's a whole entertainment complex with surprises around every corner.
This Christmas special takes you to place after place and attraction after attraction and features full attractions and shows that let you experience the following:
(all pictures taken directly from the DVD).........

Join us for a Christmas look at the streets of Seaworld with it's seasonal decorations and the magical Christmas tree at the park entrance.
۞ SEE THE WHOLE ATTRACTION ۞

Climb aboard you train to the North Pole and see some wonderful sights en route including a huge indoor Christmas tree that looks and feels as though it's in the middle of the Arctic Circle.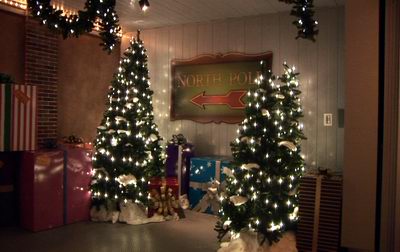 Once you leave the train and head for the north pole you are guided to a winter wonderland of Christmas festivities and animal encounters.
Polar Bears, Dolphins and a pool of Walrus make you feel like you've been transported straight to the north pole.
Lifelike and tremendously accurate sets add to the illusion..
۞ SEE THE WHOLE ATTRACTION ۞

Shark Encounter and Aquarium.
We're gonna need a BIGGER boat! Marvel at the Sharks that seem to be swimming just next to you (Maybe because they are). There's more teeth on shown than a Bee Gees Concert and a tad more scary, but the music's not nearly as good.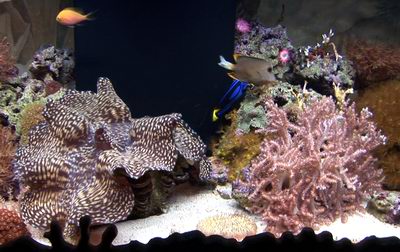 Just through the tunnel though things get a little more tranquil when we encounter lots of the gentler type of sea creatures in the aquarium.
۞ SEE THE FULL ATTRACTION ۞

As night falls SeaWorld takes on a completely new look as the Christmas decorations light up the place and add a special seasonal warmth.
۞ SEE THE WHOLE ATTRACTION ۞

Shamu Christmas Miracles.
The most famous resident at SeaWorld is of course SHAMU, the killer whale. Here we join him and his mates for the Shamu Christmas show. Some very clever moves are undertaken by the whales as well as the obligatory soaking for the first few spectator rows. The trainers join the whales for some acrobatic encounters and you can feel the love between them, and that's what makes the show special.

Winter Wonderland on Ice.
Spectacular Ice dance show with a Christmas Theme and not to be missed. Daredevil feats abound.

OK, not on the scale of Disney's fireworks display but utterly charming all the same.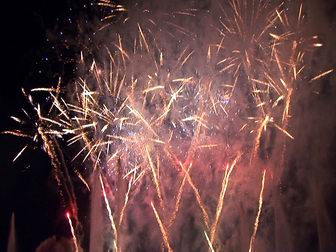 At least you get to be a lot closer to the action. A perfect end to a brilliant day.

This is NOT one of those DVD presentations you get free through the door. All our DVD's are a faithful representation of the wonder and Joy everyone experiences at this Magical place. You get to experience (or relive) the ACTUAL ride or attraction in it's entirety.
If you haven't been to SeaWorld in Florida then this is the DVD you need to show you what you're missing.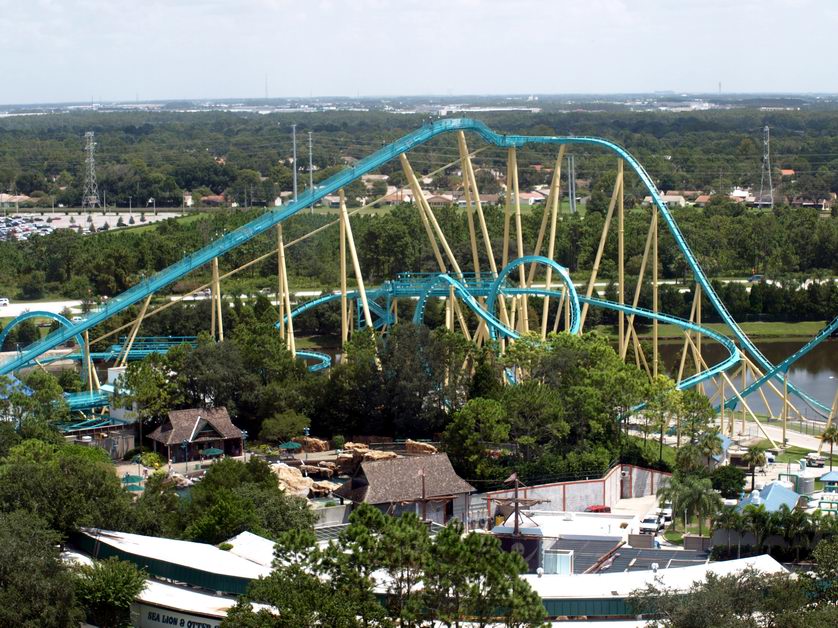 Filmed in 16:9 Widescreen and in region free format and guaranteed to get you down to the travel agent pronto. Maybe you always wondered what it was like at SeaWorld Florida or perhaps you've been there and want a reminder of the great time you had.
A Stereo Soundtrack with faithful sound makes this DVD a 'must have' for all you SeaWorld fans. Although this is a holiday movie it is beautifully edited to give you the true SeaWorld experience.
The supplied DVD will be matched to your television system i.e. if you order from Canada you will receive an NTSC version. If you order from Ireland you will receive a PAL version.
This chart shows the television system in your country.
If you would like a different television system supplied (e.g. a gift for someone in another country) then please specify when ordering.
All supplied DVD's will, however, play on ANY COMPUTER with a software DVD player.
+++++++++++++++++++++++++++++++++++++++++++++++++++++++++++++++++++++++++++++++