Universal Studios Florida Part 1 - Islands of Adventure DVD/Blu-Ray NEW.
Filmed using Hi Definition equipment - Adapted for viewing on a standard 16:9 Television
Available in PAL, NTSC and Hi-Definition Blu-Ray.
Forty Nine Minutes of pure Universal Studios Florida Magic on one Region Free DVD.
Islands of Adventure is where the Big Kids hang out.
Universal Studios Part 1 takes you to place after place and attraction after attraction and features full attractions that let you experience the following:
(all pictures taken directly from the DVD).........

The Park Entrance & City Walk.
From the Car Park to the entrance to Islands of Adventure we get a taste of the available night life (or should it be nite life) amid the bustling City Walk where cinemas, live shows, dance venues and eateries invite you to call back when the sun sets for a night to remember.
۞ SEE THE WHOLE ATTRACTION ۞

As we pass the turnstiles we find ourselves in a medieval land. More eateries, great shops but just a passage to the action for most of us. Wonderful attention to detail, as you would expect from a Florida location and this certainly doesn't disappoint.
۞ SEE THE WHOLE ATTRACTION ۞

Marvel Super Hero Island.
Holy Comic book Batman (Actually Batman doesn't appear - but I couldn't resist), this is the place for High octane action from super heroes and equally super villains. You never know who you might bump into. This island is definitely for teenagers and the stronger stomached amongst us.
۞ SEE THE FULL ATTRACTION ۞

The Incredible Hulk Coaster.
Hang onto everything loose on this white knuckle ride. Of course, no cameras allowed so external sequence only but still makes you think twice about even considering boarding this ride. A pre-ride health check-up is certainly recommended?

Step into a larger than life Cartoon land.
۞ SEE THE COMPLETE ATTRACTION ۞

Me Ship, The Olive and Popeye & Bluto's Bilge-Rat Barges.
I'll saves ya Olive, you can almost hear Popeye yell. Climb aboard the Good ship the Olive (still heavy on a Cartoon theme) and check out the ready supply of Spinach on every shelf.
You are probably going to need it too when you board your Bilge-Rat Barge for a rapid trip around Popeye's ship. Good idea to wear some waterproofs too. I wonder if the people riding are the bilge rats?

Watch out, there are some serious teeth about. Eerily similar to the movie of the same name.
۞ SEE THE WHOLE ATTRACTION ۞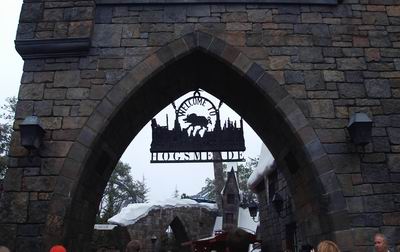 The Wizarding World Of Harry Potter.
Incredibly accurate in every detail Hogsmeade is where we start our journey around the Wizarding World of Harry Potter. Shops exactly like the films, Butter beer, chocolate frogs, Bertie Botts every flavour beans et al. It's all here.
۞ SEE THE WHOLE ATTRACTION ۞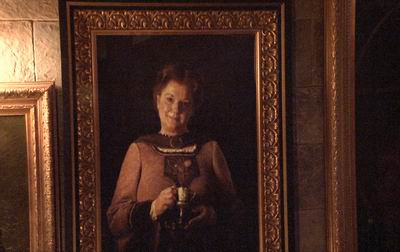 Make your way through the classrooms and corridors of Hogwarts castle. Talking, moving paintings and Character encounters at every turn... TERRIFIC. Leaves you wondering how on Earth they do that?
۞ SEE THE WHOLE ATTRACTION ۞

Flight of the Hippogriff.
Meet Buckbeak the Hippogriff up close and personal on this ride. Pass Hagrids Hut en route then climb aboard this mini coaster. Don't forget to Bow as you pass the Hippogriff though.

Three Broomsticks Fine Eating Establishment .
We take another walk down the streets of Hogsmeade stopping at the Three Broomsticks Fine Eating Establishment for some good old English Fish and Chips. Just like Home from Home.... Brilliant.
۞ SEE THE WHOLE ATTRACTION ۞

Continuing with that wonderful attention to detail we find ourselves at Hogsmeade Station, complete with a full size Hogsworth Express. All aboard.....
۞ SEE THE WHOLE ATTRACTION ۞

Take a stroll around the Bazaars and crumbling structures of ancient times.
۞ SEE THE WHOLE ATTRACTION ۞

Take a look at the world of Dr. Seuss. Meet the Cat in the Hat in person, see the one fish, two fish, red fish, blue fish ride and whole rake of other sights. It's impossible to take it all in in just one visit.
۞ SEE THE WHOLE ATTRACTION ۞

The High in the Sky Seuss Trolley Train Ride.
Soar above and through Seuss Landing on the High in the Sky Seuss Trolley Train Ride as you travel through some of Dr. Seuss's Best loved Stories.

This is NOT one of those DVD presentations you get free through the door. All our DVD's are a faithful representation of the wonder and Joy everyone experiences at this Magical place. You get to experience (or relive) the ACTUAL ride or attraction in it's entirety.
If you haven't been to Islands of Adventure in Florida then this is the DVD you need to show you what you're missing.
Filmed in 16:9 Widescreen and in region free format and guaranteed to get you down to the travel agent pronto. Maybe you always wondered what it was like at Universal Studios Islands of Adventure in Florida or perhaps you've been there and want a reminder of the great time you had.
A Stereo Soundtrack with faithful sound makes this DVD a 'must have' for all you Universal fans. Although this is a holiday movie it is beautifully edited to give you the true Islands of Adventure experience.
The supplied DVD will be matched to your television system i.e. if you order from Canada you will receive an NTSC version. If you order from Ireland you will receive a PAL version.
This chart shows the television system in your country.
If you would like a different television system supplied (e.g. a gift for someone in another country) then please specify when ordering.
All supplied DVD's will, however, play on ANY COMPUTER with a software DVD player.
+++++++++++++++++++++++++++++++++++++++++++++++++++++++++++++++++++++++++++++++