Universal Studios Orlando Part 3 - Mardi Gras and More DVD or Blu-Ray (NEW).
Filmed using Hi Definition equipment - Adapted for viewing on a standard 16:9 Television
Available in DVD and Hi-Definition Blu-Ray.
Forty Seven Minutes of pure Universal Studios Florida Magic on one Region Free DVD.
The original Universal Studios Park (and still the best).
Universal Studios do not allow Cameras on the rides but here we get a taste of what this park has to offer: All Footage filmed in 2017.
(all pictures taken directly from the DVD).........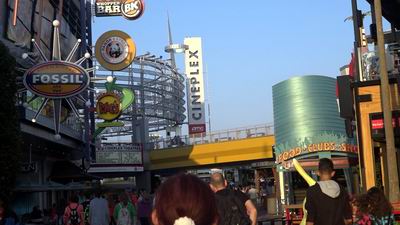 The entrance to Universal Studios and Islands of Adventure take us through Universal City Walk.
۞ SEE THE WHOLE ATTRACTION ۞

As we pass the turnstiles we find ourselves in Production Central, the hub of the park. Wonderful attention to detail everywhere, as you would expect from a Florida location and this certainly doesn't disappoint.
Just one of the many surprises encountered around every corner..
۞ SEE THE FULL ATTRACTION ۞

The Dora the Explorer and Despicable Me Road Show.
Meet and greet some of your favourite Characters..
۞ SEE THE WHOLE ATTRACTION ۞

۞ SEE PART OF THE ATTRACTION ۞

Harry Potter fans just can't get enough of Diagon Alley (and there's a lot to see). We bump into Celestina Warbeck and the Banshees.
Watch out for some scary Dudes.
۞ SEE THE WHOLE ATTRACTION ۞

The Night Bus and the Hogwarts Express.
After some advice from the Night bus Driver we board the Hogwarts Express for our trip to Hogsmeade.
An excellent experience and well worth any delay at Kings Cross Station.
۞ SEE THE WHOLE ATTRACTION ۞

Not Much changed from our last visit but still worth another look.
۞ SEE MOST OF THE ATTRACTION ۞

Really just passing through this attraction but we do bump into some Turtles en route.
۞ EXPERIENCE THE WHOLE ATTRACTION ۞

A quick look at Seuss Landing with it's spectacular colours and zany cartoon like structures.
۞ SEE THE FULL ATTRACTION ۞

We've now gone full circle and are at the entrance to Islands of Adventure.
۞ SEE THE WHOLE ATTRACTION ۞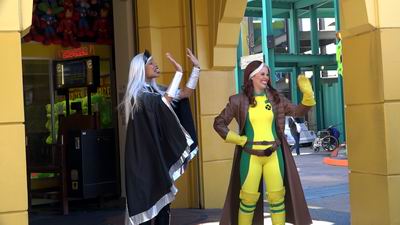 Marvel Super Hero Island.
We end our wonderful day at Marvels Super Hero Island where we meet er... Some Super Heros.
۞ SEE THE WHOLE ATTRACTION ۞

This is NOT one of those DVD presentations you get free through the door. All our DVD's are a faithful representation of the wonder and Joy everyone experiences at this Magical place. You get to experience (or relive) the ACTUAL ride or attraction in it's entirety.
If you haven't been to Universal Studios in Florida then this is the DVD you need to show you what you're missing.
Filmed in 16:9 Widescreen and in region free format and guaranteed to get you down to the travel agent pronto. Maybe you always wondered what Universal Studios in Florida was like or perhaps you've been there and want a reminder of the great time you had.
A Stereo Soundtrack with faithful sound makes this DVD a 'must have' for all you Universal fans. Although this is a holiday movie it is beautifully edited to give you the true Universal Studios experience.
The supplied DVD will be matched to your television system i.e. if you order from Canada you will receive an NTSC version. If you order from Ireland you will receive a PAL version.
This chart shows the television system in your country.
If you would like a different television system supplied (e.g. a gift for someone in another country) then please specify when ordering.
All supplied DVD's will, however, play on ANY COMPUTER with a software DVD player.
+++++++++++++++++++++++++++++++++++++++++++++++++++++++++++++++++++++++++++++++