Walt Disney World Florida - Parts One to Ten Collection - Region Free DVD. NEW and UNPLAYED.
Available in PAL and NTSC
Walt Disney World Florida Parts One to Ten Region Free DVD's. Feel the Magic, Marvel at the attention to detail and wonder at the warmth of it all. Walt Disney once called Disneyland the most wondrous place on Earth, and he wasn't wrong!
These DVD's takes you to place after place and attraction after attraction and features full rides that let you experience the following:
PLEASE NOTE: THESE ARE THE SAME DVD's THAT ARE AVAILABLE SEPARATELY.
SUPPLIED IN A 10 DISC SINGLE CASE: YOU SAVE £15 WITH THIS SET.
Disc 1: A The Magic Starts Here.
Park Entrance: Main Street USA: Adventureland: The Jungle Cruise: The Enchanted Tiki Room (Under New Management): The Liberty Belle Riverboat: It's a Small World: Dream Along with Mickey: Spectromagic.
Disc 2: Where Dreams Come True:
The Disney Ferry: Frontierland: Splash Mountain: Country Bear Jamboree: Pirates of the Caribbean: The Swiss Family Robinson Tree House: Buzz Lightyear's Space Ranger Spin: The Carousel of Progress: Wishes.
Disc 3: The Most Magical Place of All.
Downtown Disney: Rainforest Cafe: Liberty Square: The Haunted Mansion: Cinderella's Castle: Peter Pan's Flight: Mickey's Philharmagic: Ariel's Grotto: Celebrate a Dream Come True Parade: The Tomorrowland Speedway: Mickey's Toontown Fair: Mickey's Country House: Minnie's Country House: The Barnstormer at Goofy's Wiseacre Farm: Casey's Corner Piano: Move it, Shake it, Celebrate it Street Party: The Many Adventures of Winnie the Pooh: Snow White's Scary Adventure: Big Thunder Mountain.
Disc 4: Lights, Camera, Action.
Hollywood Boulevard: Beauty and the Beast - Live on Stage: The Great Movie Ride: Voyage of the Little Mermaid: Toy Story Midway Mania!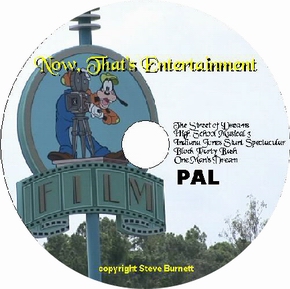 Disc 5: Now, That's Entertainment.
The Street of Dreams: High School Musical 3, Senior Year, Right here! Right Now!: Indiana Jones Epic Stunt Spectacular: The Block Party Bash: Walt Disney, One Man's Dream.
The Streets of Harambe: The Tree of Life: Mickey's Jammin' Jungle Parade: It's Tough to be a Bug: Bugs up Close: The Wildlife Express: Expedition Everest: Kali River Rapids: Flights of Wonder: The Bone Yard: Primeval Whirl: Tryceratop Spin.
Disc 7: Back to the Futureworld.
Spaceship Earth: Project Tomorrow: The Flower and Garden Festival: The Seas with Nemo and Friends: Mission Space: Fountain Display: The Model Railway: Living with the Land: Turtle Talk with Crush: Impressions de France.
Disc 8: Around the World in 80 Minutes.
Mexico: Norway: China: Germany: Italy: United States of America: Japan: Morocco: France: United Kingdom: Canada.
Disc 9: The Magic Kingdom's Magic Moments.
Tiana's Showboat Jubilee: Tom Sawyer Island: Frontierland Shootin' Arcade: The Hall of Presidents: The Disney Brass Band: Dumbo the Flying Elephant: Fantasyland: Mad Tea Party: Cinderella's Golden Carousel: Adventureland: The Magic Carpets of Aladdin: Astro Orbiter: The Tomorrowland Transit Authority: The Walt Disney World Railroad.
Disc 10: A Wonder Winterland.
The Beach Club Resort: Downtown Disney at Christmas: The Monorail: Main Street at Christmas: Crystal Palace: The Castle and Grounds: It's a Christmas Small World: The Parade: The Main Street Transport Company: The Monorail Part Two: The Wilderness Lodge: The Seven Seas Lagoon: The Seven Seas Light Show: Mickey's Very Merry Christmas Wishes: The Beach Club at Night.
۞ CHECK OUT THE INDIVIDUAL LISTINGS FOR FULL DETAILS ۞
This is NOT one of those Disney presentations you get free through the door, or a copy of a television programme (like some others offered on eBay). All our DVD's are a faithful representation of the wonder and Joy everyone experiences at this Magical place. You get to experience (or relive) the ACTUAL ride or attraction in it's entirety.
If you haven't been to Walt Disney World Florida then these are the DVD's you need to show you what you're missing. Borrow someone's kid and go this year, you are never too old to enjoy the splendour that is Disney World.
Filmed in 16:9 Widescreen and in region free format and guaranteed to get you down to the travel agent pronto. Maybe you always wondered what it was like, or perhaps you've been there and want a reminder of the great time you had.
A Stereo Soundtrack with faithful sound makes these DVD's a 'must have' for all you Disney fans. Although these are holiday movies they are beautifully edited to give you the true Disney experience.
Want to compare Walt Disney World with other Disney parks? Check it out!
The supplied DVD's will be matched to your television system i.e. if you order from Canada you will receive an NTSC version. If you order from Ireland you will receive a PAL version.
This chart shows the television system in your country.
If you would like a different television system supplied (e.g. a gift for someone in another country) then please specify when ordering.
All supplied DVD's will, however, play on ANY COMPUTER with a software DVD player.
+++++++++++++++++++++++++++++++++++++++++++++++++++++++++++++++++++++++++++++++