Walt Disney World Florida - Parts Eleven to Nineteen Collection on Region Free DVD's.
Available in PAL and NTSC
Walt Disney World Florida Parts Eleven to Nineteen Region Free DVD's. Feel the Magic, Marvel at the attention to detail and wonder at the warmth of it all. Walt Disney once called Disneyland the most wondrous place on Earth, and he wasn't wrong!
These DVD's takes you to place after place and attraction after attraction and features full rides that let you experience the following:
PLEASE NOTE: THESE ARE THE SAME DVD's THAT ARE AVAILABLE SEPARATELY.
SUPPLIED IN A 9 DISC SINGLE CASE: YOU SAVE £12 WITH THIS SET.
Disc 11: It's Christmas Time All Over the World.
United Kingdom at Christmas: Mexico at Christmas: The Gran Fiesta Tour: Chinese Acrobats: Reflections of China: Santa Claus Around the World: Maelstrom: Christmas Reflections of Earth: The World at Night.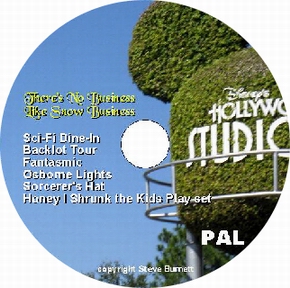 Disc 12: There's No Business Like Snow Business.
Friendship Boat Ride to Hollywood Studios: The Christmas shop (Where it's ALWAYS Christmas): The Sci-Fi Dine-In Theatre Restaurant: The Studio Backlot Tour: The Sorcerer's Hat: Honey, I Shrunk the Kids Movie Set Adventure: Hollywood streets: The Osborne Family Spectacle of Dancing Lights: Fantasmic.
50's Prime Time Cafe: Disney Channel Rocks: Muppet Vision 3D: The Streets of America: The ABC Commissary Restaurant: The Pixar Pals Countdown To Fun Parade: Lights, Motors, Action! Extreme Stunt Show: Sunset Boulevard et al: The Twilight Zone Tower of Terror.
Disc 14: Let the Memories Begin.
Old Fantasyland and New Fantasyland: The Grand Floridian Hotel and Spa: The 1900 Park Fare Restaurant: Main Street USA: The Main Street USA Dancers: The Celebrate a Dream Come True Parade: The Flag Retreat: Main Street at night: The Main Street Electrical Parade: The Magic, the Memories and YOU.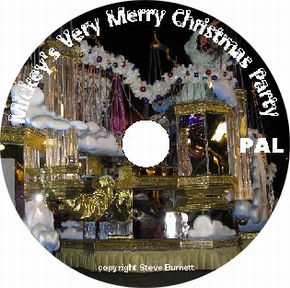 Disc 15: Mickey's Very Merry Christmas Party.
A Christmas Main Street: Cinderella's Royal Table: Celebrate the Season: Mickey's Once Upon a Christmas Parade:
Disc 16: Jungle all the Way.
A Christmas Greeting: The Christmas Drum Experience: Mickey's Jingle Jungle Parade: Shopping at Christmas: Dinosaur: Camp Minnie Mickey: The Festival of the Lion King.
Disc 17: Safari Serenade.
Harambe Village: Kilimanjaro Safari: Mickey's Jammin' Jungle Parade: The Tusker House Restaurant: Mararajah Jungle Trek: The Streets of Asia: Animal Kingdom Lodge.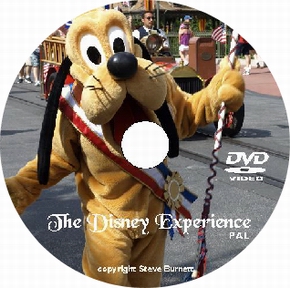 Disc 18: The Disney Experience.
The Main Street Philharmonic: Liberty Square Tavern: Characters in Flight: Downtown Disney: Polynesian Hotel: Fantasy Gardens Golf Course: Marching Band: Dapper Dan's of Main Street: Frontierland: Main Street USA: Wishes.
Disc 19: A World of Entertainment.
France (Acrobats): Morocco: Japan (Matsuriza Taiko Drummers): U.S.A. (Fife and Drums): Italy (Juggler): Model Railway: Germany: Outpost (Bridge): China: Norway (Stave Church): Mexico: EPCOT: Figment: Image Works: Canada (Off Kilter): U.K. (British Invasion): Illuminations of Earth: The End of a Perfect Day:
۞ CHECK OUT THE INDIVIDUAL LISTINGS FOR FULL DETAILS ۞
This is NOT one of those Disney presentations you get free through the door, or a copy of a television programme (like some others offered on eBay). All our DVD's are a faithful representation of the wonder and Joy everyone experiences at this Magical place. You get to experience (or relive) the ACTUAL ride or attraction in it's entirety.
If you haven't been to Walt Disney World Florida then these are the DVD's you need to show you what you're missing. Borrow someone's kid and go this year, you are never too old to enjoy the splendour that is Disney World.
Filmed in 16:9 Widescreen and in region free format and guaranteed to get you down to the travel agent pronto. Maybe you always wondered what it was like, or perhaps you've been there and want a reminder of the great time you had.
A Stereo Soundtrack with faithful sound makes these DVD's a 'must have' for all you Disney fans. Although these are holiday movies they are beautifully edited to give you the true Disney experience.
Want to compare Walt Disney World with other Disney parks? Check it out!
The supplied DVD's will be matched to your television system i.e. if you order from Canada you will receive an NTSC version. If you order from Ireland you will receive a PAL version.
This chart shows the television system in your country.
If you would like a different television system supplied (e.g. a gift for someone in another country) then please specify when ordering.
All supplied DVD's will, however, play on ANY COMPUTER with a software DVD player.
+++++++++++++++++++++++++++++++++++++++++++++++++++++++++++++++++++++++++++++++